The Mad, Mad, Mad World of Climatism
Is it true that:

• By changing our light bulbs, we can save polar bears?

• By driving electric cars, we can stop the seas from rising?

• By building wind turbine towers, we can make the hurricanes less severe?

It's all part of this Mad, Mad, Mad World of Climatism.  But the good news is that, contrary to what our newspaper, our professor, or our political leader tells us, global warming is natural and cars are innocent.

The first book on climate change that is fun to read!

Color softcover, 312 pages, 113 figures, 150 sidebars, 13 cartoons

Notes, index, and bibliography

$22.95 retail

Special!

Order your signed copy today for $19.95 and free U.S. shipping or discounted shipping to international locations.
---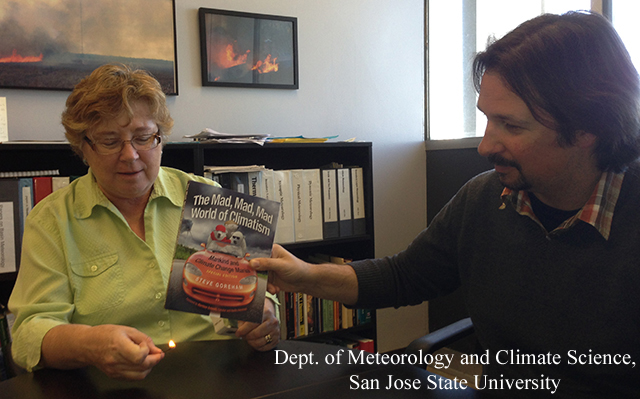 Why are college professors threatening to burn this book?
Praise for The Mad, Mad, Mad World of Climatism!
"Mad, bad, and dangerous to read!" — Timothy Renshaw, Business in Vancouver
"Goreham, the antidote for Gore!"  — Doug Giles, Syndicated Radio Host
"An amusing and colorful, yet scienced-based, look at mankind's obsession with global warming."  — Publishers Weekly
"It's all here.  Replete with great graphics and much humor, Steve Goreham reveals the mountain of failed eco-predictions, rank green hypocrisies and outright fraud that currently masquerades in the guise of modern environmentalism and 'climate science'…The Mad, Mad, Mad World of Climatism is an easy-to-read, easy-to-understand expose of all the key facts behind the dirty 'green' politics of the greatest pseudo-science racket of our age."     — Peter Glover, International Associate Editor, Energy Tribune
"Interesting, accurate, compellingly readable, and directly relevant to one of today's most important political debates.  What more needs to be said beyond, 'Buy this fascinating book!'"  — Robert Carter, Australian Marine Geologist and Environmental Scientist
"This is the first book written to make you laugh at the absurdity of man-made global warming—that is, until it makes you cry.  If 250 pages of facts are too much, you can simply read the amusing cartoons and quotes on every page to fully understand how the world has been misled."  — Jay Lehr, PhD, Science Director, The Heartland Institute
"Steve's new book is exactly what I hoped would be published.  It makes climate science understandable to everyone.  Finally some common sense, presented in a way to inform, not to deceive."  — Burt Rutan, Aerospace Engineer, Innovator, Entrepreneur
"I am extremely impressed with this work, easily the best of its kind I have ever read…an authoritative, well-referenced, but easy-to-understand summary of the climate scare and its dire implications for society and the environment."  — Tom Harris, Executive Director, International Climate Science Coalition
"Steve Goreham's insightful and readable analysis of the ideology of Climatism and its socialistic goals is an important addition to public understanding of both the facts and the critical importance of making the right decisions for America." — Harrison Schmitt, PhD, Geologist, former Senator and Apollo 17 Astronaut 
"Goreham's book is an excellent, readable, comprehensive, and indispensable education for everyone.  It should be required reading in all schools, universities, statehouses, and Congress."  — Edwin Berry, PhD, Physicist and Meteorologist
"Steve Goreham has provided the science, the motivations, and the examples of deceit that surround the man-made warming hypothesis.  He leaves no excuse for the public and policy makers to prolong the misguided effort to spend trillions of dollars trying to reduce the insignificant effect of CO2 on global climate change."  — Leighton Steward, Geologist, Author, and Environmentalist
_____________________________________________________________________________________________

Introduction
I'll bet I know your thoughts about the climate. For years you've heard about how Earth is warming up. How people are the cause of global warming. How the polar bears are threatened with extinction. How we each must change our lifestyle for the good of the planet.
Television specials show calving glaciers and raging torrents from an ice melt in Greenland and voice concern over greenhouse gas emissions. Scientists report from Antarctica about pending disasters. A news story says that the flood in Pakistan is due to global warming. And wasn't Hurricane Katrina caused by climate change?
If you listen to the news, your national leaders promote new policies to fight climate change. Your nation must embrace renewable energy and reduce greenhouse gas emissions. There is talk about new taxes and regulations that will require sacrifices, but these are necessary to solve the climate crisis.
Of course, as a good citizen, you try to follow the lead. You've purchased some of the new compact fluorescent lights. They're a little expensive and it takes a while for them to get bright. They contain mercury—so you don't want to break one. Is it true that you can't buy any of the old incandescent bulbs anymore?
You're told that electric cars are the hot new technology. But they seem a little small and are said to have only a 40-mile range. Will they be available as a minivan or a pickup truck?  If you buy one, where can you charge it?
You might have a new Vice President of Sustainability at your company. Purchases of expensive green energy and estimating the carbon dioxide output from processes are new policies. It's politically incorrect to question these policies, so you remain silent.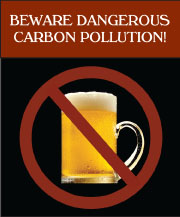 Your high school student comes home with concerns about climate change. It seems she has just seen Al Gore's movie in
class. She asks if your family is doing enough to help save the planet.
A group of wind turbines was recently constructed in the next county. They look majestic, towering above fields and grazing livestock. But when you drive past them, many seem to be standing idle.
Yes, the world is certainly a greener place in response to all these changes. Yet, something deep down in your gut says that all this alarm about global warming just doesn't ring true. Maybe you've heard the demands for change, but they don't make sense in your daily life. Maybe you remember the 1970s, when scientists were concerned about global cooling and a pending ice age.  But friends tell you now that your memory is faulty—there was no fear of an ice age back then.
You've been told that our air is being filled with "dangerous carbon pollution."  But, you don't see any evidence of this. You recall the smog in our cities and foul-smelling polluted air when you were a child. Somehow it seems like the quality of air has improved during the last 30 years, despite the alarms from the news media.
Maybe you've just been through a tough winter, with mountainous drifts of snow and cold temperatures. Didn't the seasonal forecast call for a warm, dry winter? And what about Climategate—something about a scandal over temperature data at a university in Britain?
Well, your intuition about global warming is right.
There is no direct scientific evidence that man-made greenhouse gases are causing catastrophic global warming. Instead, the world has been captured by the ideology of Climatism—the belief that man-made greenhouse gases are destroying Earth's climate. Almost every government, university, scientific organization, and business of the world has adopted Climatism.
The astonishing thing is that CO2 is green! Rather than being a pollutant, carbon dioxide makes plants grow! In a world turned upside down, every community and every company measures their "carbon footprint" and tries to reduce emissions of a harmless, invisible gas that is essential for photosynthesis and the growth of plants.
Don't misunderstand me. There are real pollutants that we need to control. For more than 25 years, I've had the joy of kayaking many of the great white water rivers of North America. From Texas to Idaho to Quebec, rivers have been a love of my life. I've paddled creeks on the Cumberland Plateau in Tennessee, Al Gore's home turf. Rivers are highlights of this amazing and beautiful world. We all want our water to be pure and our air to be clean. We're all environmentalists. But we must use sound science to determine man-made impacts on our climate. Sensible economics should drive our energy policy, not unfounded fears about global warming.
This book will take a common-sense look at global warming mania. We'll provide a down-to-earth discussion of the science, which increasingly shows that natural cycles of Earth are the dominant cause of climate change—not man-made greenhouse gas emissions. We'll discuss how climate science has been corrupted and look at the money and special interests that continue to drive the dogma of Climatism forward. We'll discuss renewable energy, which is proposed as a primary solution to stop climate change.
The arguments of this book are not just opinions, but are based on the work of hundreds of scientists across the world who challenge the theory of man-made global warming. Graphs and scientific data from peer-reviewed papers are used to show that man-made influences are actually only a very small part of Earth's climate. The evidence is available for all to see.
Chapters 1–2 discuss how our leaders have been captured by the false ideology of Climatism and the remedies proposed to change the life of every person on Earth. Climate science is discussed in Chapters 3–5. I encourage you to read the down-to-earth science in these chapters, but of course feel free to skip these if you're just interested in how the world has been smitten by climate madness. Chapters 6–7 discuss alarming claims about Earth's icecaps and weather, and show that these claims are not supported by scientific data. Chapter 8 exposes some of the biggest whoppers of global warming mania. Chapters 9–10 discuss bad science and the powerful role that money plays in this whole affair. Chapter 11 discusses the continuing shortcomings of renewable energy, despite many decades of media hype and promotion by governments. Don't miss Chapter 12, "You Can't Make this Stuff Up!"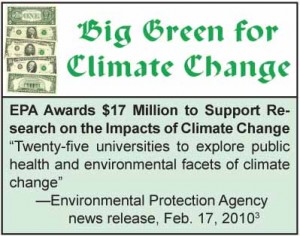 Climate change is a serious topic. Government policies are proposed or already in place that will affect the light bulbs you buy, the construction of your house, the car or appliance you purchase, the price of your energy, your workplace, what your children are taught in school, and almost every aspect of your life. This book will help you sort fact from fiction in the global warming debate. It will remove the fear and paranoia that you and your family may be feeling from daily bombardment of climate change nonsense from work, school, and community.
Along the way, we'll have some fun. We'll discuss the wackiness of mankind turned on its head by global warming alarmism. This whole charade has moved from the serious to the absurd. Beware the sidebars, since a few of these are spoofs. But the rest are true headlines or quotes from our mad, mad, mad world of Climatism. Enjoy and, as the great Paul Harvey used to say, learn "the rest of the story" about climate change.
—  Steve Goreham

_____________________________________________________________________________________________
Contents
| | |
| --- | --- |
| Foreword by Harrison Schmitt | v |
| Acknowledgements | vii |
| Introduction | 1 |
Chapter 1
Mankind in the Grip of a Madness
5
Climate Prophets of Doom ~ World Leaders ~ Big Business ~ Science Says ~ How Did We Get To This State of Affairs? ~ In the Grip of a Madness
Chapter 2
Do This to Save the Planet
17
Horse and Buggy ~ The Illusory Solution ~ Seven Lifestyle Changes ~ Global Governance ~ Developing Nations ~ Cap-and-Trade ~ Mad, Mad, Mad World
Chapter 3
The Simple Science of Man-made Global Warming
47
Rising Global Temperatures ~ Rising Carbon Dioxide ~ Greenhouse Effect ~ Computer Model Projections ~ Global Warming Dogma ~ Open and Shut?
Chapter 4
History Shows Global Warming Not Abnormal
55
Modern Warming Abnormal? ~ MWP and LIA ~ Evidence ~ 1500-Year Cycle ~ IPCC Temperature Curve ~ Short-Term Cycles ~ Warming Not Abnormal
Chapter 5
Climate Science – The Rest of the Story
71
Drives Earth's Climate? ~ CO2 Rise Due to Man? ~ The Carbon Cycle ~ Perspective on the Greenhouse Effect ~ Positive Feedback? ~ Ignore the Sun? ~ Cosmic Rays and Clouds—Climate Missing Link ~ The World is as it Seems
Chapter 6
The Oceans Are Rising! The Oceans Are Rising!
101
Evidence about Earth's Icecaps ~ Sea Level Rise ~ Preparations—Founded and Unfounded ~ Play at the Melting North Pole ~ The Specter of Sea Level Rise
Chapter 7
Wild Weather and Snow Follies
113
Weather Scaremongers ~ Hurricanes and Tornados ~ Snow is a Sign of Global Warming? ~ Gore Effect ~ Disasters and Climate Policy ~ Modern Superstition
Chapter 8
Big Whoppers About Climate Change
127
Carbon Pollution? ~ CO2 is Green! ~ Health Issue? ~ Polar Bear Propaganda ~ Acid Oceans? ~ 97 Percent of Scientists? ~ Our Youth ~ Climate Whoppers
Chapter 9
Bad Science – Temperature, the IPCC, and Revealing E-mails
145
Science is Settled? ~ Temperature ~ Bias at the IPCC ~ Climategate Scandal ~ Inquiry Whitewash ~ Another E-mail Release ~ Why Does it Matter?
Chapter 10
Fund My Climate Study
171
Scientific-Government Complex ~ Foundations ~ Funding from Industry ~ Myth of Well-Funded Deniers ~ A Hoax? ~ Scientific Organizations ~ Money
Chapter 11
Sunbeams, Zephyrs, and Green, Leafy Fuel
183
Hydrocarbon Energy ~ Some Oppose Energy ~ Energy Reality ~ Wind and Solar: Dilute ~ Wind and Solar: Intermittent ~ Wind and Solar: Costly ~ Biofuels ~ Electric Cars ~ Climate Madness in Europe ~ Myth of Peak Oil ~ Hydraulic Fracturing Revolution ~ Renewable Energy Mirage
Chapter 12
You Can't Make This Stuff Up!
227
The Roses ~ Solar at Night ~ Green, Leafy Jets ~ Stop Signs Cause Warming ~ Australian Camel Gas ~ Bird-Chopping Turbines ~ Green Education ~ A Green Drain ~ Futile Gestures ~ Animal Scientists ~ Climate Foolishness
Chapter 13
Climatism—Headed for a Crash
237
Trends Show the Models are Wrong ~ Science Does Not Support Alarm ~ Failure of Negotiations ~ Renewables are Bankrupt ~ Decarbonization Folly ~ Sustainability ~ One Trillion Dollars ~ Billions Will Figure It Out
| | |
| --- | --- |
| Further Reading | 247 |
| Notes | 249 |
| Index | 285 |
| About the Author | 301 |

_____________________________________________________________________________________________
Notes for The Mad, Mad, Mad World of Climatism
Introduction Notes (pages 1-4)
1. Peter Gwynne, "The Cooling World," Newsweek, April 28, 1975, p.64; Crystal ball image by Eva Kröcher under GFDL
2. Photograph by Dawn Guenther, all rights reserved
3. "EPA Awards $17 Million to Support Research on the Impacts of Climate Change Twenty-five universities to explore public health and environmental facets of climate change," EPA press release, Feb. 2, http://yosemite.epa.gov/opa/admpress.nsf/e77fdd4f5afd88a3852576b3005a604f/806e135c0522699b852576cd006b4813!OpenDocument
Chapter 1 Notes (pages 5-16)
1. "The Nobel Peace Prize for 2007," Nobelprize.org, http://nobelprize.org/nobel_prizes/peace/laureates/2007/press.html
2. Al Gore photograph by Kjetil Bjørnsrud under GNU Free Documentation License
3. Al Gore, The Nobel Lecture, Oslo, Dec. 10, 2007, http://nobelpeaceprize.org/enGB/laureates/laureates-2007/gore-lecture/
4. Intergovernmental Panel on Climate Change, http://www.ipcc.ch/organization/organization.shtml
5. The Nobel Peace Prize 2007, http://nobelprize.org/nobel_prizes/peace/laureates/2007/ipcc-lecture_en.html
6. HULIQ, http://www.huliq.com/44398/un-climate-panel-chief-pachauri-gore-accept-nobel-peace-prize
7. An Inconvenient Truth: The Planetary Emergency of Global Warming and What We Can Do About It by Al Gore (Rodale, 2006)
8. Our Choice: A Plan to Solve the Climate Crisis by Al Gore (Rodale, 2009)
9. Al Gore, statement to the Senate Foreign Relations Committee, January 28, 2009
10. Image spoof by Anthony Watts
11. Al Gore image by US Government Images, http://globalwarming.house.gov /tools/assets/files/0127.jpg; James Hansen image by Bill Ebbesen, public domain; Bill McKibben image by Evan Derickson under GFDL; Nicholas Stern image by the International Monetary Fund, public domain; Tim Flannery image by Mark Coulson, 5th World Conference of Science Journalists
12. Al Gore (Rodale, 2006), p. 10.
13. James Hansen, letter to Barack and Michelle Obama, December 29, 2008
14. Eaarth: Making a Life on a Tough New Planet by Bill McKibben (Times Books, 2010), p. 2
15. Alison Benjamin, "Stern: Climate Change a 'Market Failure,'" Guardian, November 29, 2007
16. Now or Never: Why We Must Act Now to End Climate Change and Create a Sustainable Future by Tim Flannery (Atlantic Monthly Press, 2009), p. 14
17. James Hansen, "Coal-fired power stations are death factories. Close them," The Observer, February 15, 2009, http://www.guardian.co.uk/commentisfree/2009/feb/15/james-hansen-power-plants-coal
18. J. Hansen et. al., "Climate Impact of Increasing Atmospheric Carbon Dioxide," Science, Aug. 28, 1981, Vol. 213, No. 4511
19. James Hansen, "Global Warming Twenty Years Later: Tipping Points Near," address to the National Press Club, June 232, 2008; Executioner photo by Andrew Butko under GFDL
20. Eaarth (See no. 14)
21. "350.org coordinated 5,200 rallies" 350.org website: http://www.350.org/en/mission
22. Andrew Revkin, "The Long-Distance Climate Campaigner," The New York Times, December 5, 2010
23. The Economics of Climate Change: The Stern Review by Nicholas Stern (Cambridge University Press, 2007)
24. "Mass Migrations and War: Dire Climate Scenario," Homeland Security News, February 24, 2009, http://homelandsecuritynewswire.com/dire-climate-scenario-mass-migrations-and-war
25. Ibid
26. Barbara Hollingsworth, "Spend trillions now, and world temperatures might fall in 1,000 years," The Washington Examiner, Mar. 26, 2011, http://washingtonexaminer.com/blogs/beltway-confidential/2011/03/spend-trillions-now-and-world-temperatures-might-fall-1000-years
27. The Weather Makers: How Man is Changing the Climate and What It Means for Life on Earth by Tim Flannery (Grove Press, 2001) p.17
28. "Bill Clinton, Al Gore Get Rich After White House," ABC News, June 15, 2007, http://abcnews.go.com/GMA/story?id=3281925
29. David Cameron image by 10 Downing Street under Open Government License; Barack Obama image by Pete Souza under Creative Commons Unported License; Julia Gillard image by MystifyMe Concert Photography (Troy) licensed under Creative Commons Generic License; Angela Merkel image by Agência Brasil under Creative Commons License Brazil; Manmohan Singh image by José Cruz under Creative Commons Brazil license
30. David Cameron, April 8, 2010, http://www.youtube.com/watch?v=HjU0CQKQxPo
31. Barack Obama, Message for the Global Climate Summit, November 17, 2008
32. "Australian prime minister lays out climate change plan" CNN, July 23, 2010, http://articles.cnn.com/2010-07-22/world/australia.climate.change_1_climate-change-carbon-pollution-biggest-polluters?_s=PM:WORLD
33. Angela Merkel, UN Climate Change Summit, September 22, 2009
34. Mahoman Singh, speech at Council on Foreign Relations, November 23, 2009
35. Debbie Stabenow, interview with Detroit News, Aug. 8, 2009, http://community.detnews.com/apps/blogs/henrypayneblog/index.php?blogid=2041; Hot earth image by Jack1 under GFDL
36. "Who's Winning the Clean Energy Race," The Pew Charitable Trusts, 2011, http://www.pewtrusts.org/uploadedFiles/wwwpewtrustsorg/Reports/Global_warming/G-20%20Report.pdf
37. US Conference of Mayors Climate Protection Agreement, http://www.usmayors.org/climateprotection/agreement.htm
38. C40 Cities Climate Leadership Group, http://live.c40cities.org/about-us/
39. American College & University Presidents' Climate Commitment, http://presidentsclimatecommitment.org/about/commitment
40. Christian Hiller, "Deutsche Bank, Al Gore and the $10 Billion Climate Fund," Frankfurter Allgemeine Zeitung, November 15, 2010, http://www.thegwpf.org/international-news/1860-deutsche-bank-al-gore-and-the-10-billion-climate-fund.html
41. "European Consumers Pay 46% More for Green Retail Products," Kelkoo, May 31, 2010, http://press.kelkoo.co.uk/european-consumers-pay-46-more-for-green-retail-products.html.
42. Natural Marketing Institute, "LOHAS Market Size," LOHAS Journal, Spring 2010, http://www.lohas.com/sites/default/files/lohasmarketsize.pdf
43. Ashley Cleek, "Russian Scholar Warns Of 'Secret' US Climate Change Weapon," RadioFreeEuropeRadioLiberty, July 30, 2010, http://www.rferl.org/content/Russian_Scholar_Warns_Of_Secret_US_Climate_Change_Weapon/2114381.html
44. "World's Largest Investors, Worth $20 Trillion, Step Up Call for Urgent Policy Action on Climate Change, The Corporate Social Responsibility Newswire, Oct. 20, 2011, http://www.csrwire.com/press_releases/33186-World-s-Largest-Investors-Worth-20-Trillion-Step-Up-Call-for-Urgent-Policy-Action-on-Climate-Change
45. US Climate Action Partnership, http://www.us-cap.org/
46. Peter T. Doran and Maggie Kendall Zimmerman, "Examining the Scientific Consensus on Climate Change," EOS, Trans. AGU, 90(3), October 29, 2009
47. American Physical Society, http://www.aps.org/policy/statements/07_1.cfm
48. National Atmospheric and Oceanographic Administration, http://www.ncdc.noaa.gov/indicators
49. National Aeronautic and Space Administration, http://climate.nasa.gov/evidence
50. American Geophysical Union, http://www.agu.org/sci-pol/positions/climate_change2008.sh
51. American Meteorological Society, http://www.ametsoc.org/policy/2007climatechange.html
52. National Academy of Sciences, http://dels.nas.edu/report/america-climate-choices-2011/12
53. "Climate Change: A Summary of the Science," The Royal Society, Sep. 2010
54. Royal Meteorological Society, http://www.rmets.org/about/press_detail.php?ID=33
55. "Let's Be Honest," European Academy of Arts and Sciences, http://www.euro-acad.eu/downloads/memorandas/lets_be_honest_-_festplenum_03.03.07_-_final2.pdf
56. Letter to the Canadian Parliament, Canadian Meteorological and Oceanographic Society et al., November 26, 2009
57. Deborah Amos, "Hot Politics," PBS Frontline, Apr. 24, 2007, http://www.pbs.org/wgbh/pages/frontline/hotpolitics/etc/script.html
58. NASA photograph, http://en.wikipedia.org/wiki/File:James_Hansen.jpg
59. UN Framework Convention on Climate Change, May 9, 1992, http://unfccc.int/resource/docs/convkp/conveng.pdf
60. Statement by Atmospheric Scientists on Greenhouse Warming," February 27, 1992, http://www.his.com/~sepp/policy%20declarations/statment.html
61. United Nations Framework Convention on Climate Change, http://unfccc.int/kyoto_protocol/items/2830.php">http://unfccc.int/kyoto_protocol/items/2830.php

Chapter 2 Notes (pages 17-45)
1. Audra Ang, "Pelosi appeals for China's help on climate change," Associated Press, May 27, 2009, http://www.thefreelibrary.com/Pelosi+appeals+for+China's+help+on+climate+change-a01611879983
2. UN Framework Convention on Climate Change, http://unfccc.int/files/meetings/cop_16/application/pdf/cop16_lca.pdf
3. White House Press Release, November 25, 2009, http://www.whitehouse.gov/the-press-office/president-attend-copenhagen-climate-talks
4. Ecoscience: Population, Resources, Environment by Paul R. Ehrlich, et. al. (W. H. Freeman, 1970), p. 323
5. N.C. Aizenman, "U.S. to Grow Grayer, More Diverse," The Washington Post, Aug. 14, 2008, http://www.washingtonpost.com/wp-dyn/content/article/2008/08/13/AR2008081303524_pf.html
6. Statistisches Bundesamt Deutschland, Nigeria, http://www.destatis.de/jetspeed/portal/cms/Sites/destatis/Internet/EN/Content/Statistics/Internationales/ InternationalStatistics/Country/Africa/Nigeria,templateId=renderPrint.psml
7. Cell phone image by Kristoferb under Creative Commons License; Personal computer image by Boffyb, under GFDL; Jet aircraft image by Adrian Pingstone; Television image by Varglko; Automobile image by Luna04 under GFDL; Light bulb image by KMJ under GFDL
8. Emissions graph data from Carbon Dioxide Information Analysis Center, http://cdiac.ornl.gov/trends/emis/tre_usa.html
9. US Census Bureau, http://www.census.gov/prod/www/abs/statab.html
10. Climatism! Science Common Sense, and the 21st Century's Hottest Topic by Steve Goreham (New Lenox Books, 2010), p. 268-275
11. Ibid, p. 268-275
12. IEA Wind 2010 Annual Report, p. 5-6, http://www.ieawind.org/
13. Key World Energy Statistics, International Energy Agency, 2011, http://www.iea.org/textbase/nppdf/free/2011/key_world_energy_stats.pdf
14. Climatism! (See no. 10), p. 286
15. Climatism! (See no. 10), p. 278
16. Climatism! (See no. 10), p. 285
17. Ronald Steenblik, "Biofuels—At What Cost?," Global Subsidies Initiative of the International Institute for Sustainable Development, September, 2007, http://www.globalsubsidies.org/en/research/biofuel-subsidies-selected-oecd-countries
18. Al Gore, Repower America, 2009, http://www.youtube.com/watch?v=xrUckZXQcAQ "Renewable Fuel Standard, Potential Economic and Environmental Effects of US Biofuel Policy," National Research Council, 2011, p. 221
19. Key World Energy Statistics (See no. 13)
20. IEA Wind (See no. 12)
21. The First Global Revolution: A Report by the Council of The Club of Rome by Alexander King and Bertrand Schneider (Pantheon, 1991), p. 115; Spy image by Setreset under Creative Commons Attribution License
22. "Green Transportation Solutions: Clean Cars," Sierra Club, http://www.sierraclub.org/transportation/cleancars/default.aspx
23. "Passenger Vehicle Greenhouse Gas and Fuel Economy Standards: A Global Update," International Council on Clean Transportation, July, 2007, http://www.lowcvp.org.uk/assets/reports/ICCT_GlobalStandards_2007.pdf
24. Ibid
25. "What are the costs of CO2 Reductions through Vehicle Technology?" European Automobile Manufacturers Association, January 2007, http://www.acea.be/images/uploads/co2/Cost-analyses_European_ Climate_Change_Programme.pdf.
26. John M. Broder, "Obama to Toughen Rules on Emissions and Mileage," The New York Times, May 19, 2009, http://www.nytimes.com/2009/05/19/business/19emissions.html
27. Letter to President Obama, September 9, 2010, http://www.ucsusa.org/assets/documents/clean_vehicles/Letter-to-Obama-to-Increase-Fuel-Efficiency-and-Cut-Tailpipe-Pollution.pdf.
28. "2017 and Later Model Year Light-Duty Vehicle Greenhouse Gas Emissions and Corporate Average Fuel Economy Standards," Environmental Protection Agency and Department of Transportation, Federal Register, v. 76, no. 231, Dec. 1, 2011, http://www.nhtsa.gov/About+NHTSA/Press+Releases/2011/We+Can't+Wait:+Obama+Administration+Proposes+Historic+Fuel+ Economy+Standards+to+Reduce+Dependence+on+Oil,+Save+Consumers+Money+at+the+Pump
29. Horse and carriage image by Steve Evans under Creative Commons Attribution License; Leaf image by uneekGrafix under GNU General Public License
30. ICCT (See no. 23)
31. "Best Practices for Feebate Design and Implementation," International Council on Clean Transportation, May, 2010, http://www.theicct.org/pubs/feebate_may10.pdf
32. Margaret Zewatsky, "What Drives Global Hybrid Sales," March 31, 2010, http://blog.polk.com/blog/blog-posts-by-margaret-zewatsky/0/0/what-drives-global-hybrid-sales
33. "Study: A Dog or Cat Pollutes for than an SUV," Italian News Agency, August 18, 2010, http://hockeyschtick.blogspot.com/2010/09/study-dog-or-cat-pollutes-more-than-suv.html
34. "Barack Obama and Joe Biden: New Energy for America," August 3, 2008, http://www.barackobama.com/pdf/factsheet_energy_speech_080308.pdf
35. Sharon Silke Carty, "Obama Pushes Electric Cars, Battery Power This Week," USA Today, July 14, 2010, http://content.usatoday.com/communities/driveon/post/2010/07/obama-pushes-electric-cars-battery-power-this-week-/1
36. "UK to Produce Nissan Electric Car," BBC News, March 18, 2010, http://news.bbc.co.uk/2/hi/business/8573724.stm
37. John Reed, "Buyers Loath to Pay more for Electric Cars," Financial Times, Sep. 19, 2010, http://www.ft.com/cms/s/0/acc0a646-c405-11df-b827-00144feab49a, dwp_uuid=aece9792-aa13-11da-96ea-0000779e2340.html#axzz1DxCyYD8Q
38. "David Cameron: The Green Consumer Revolution, The Conservative Party, October 16, 2009, http://www.conservatives.com/News/Speeches/2009/10/David_Cameron_The_ Green_Consumer_Revolution.aspx
39. House of Commons Hansard Ministerial Statements, July 27, 2010, http://www.publications.parliament.uk/pa/cm201011/cmhansrd/cm100727/wmstext/100727m0001.htm.
40. "Carbon Compliance: What is the Appropriate Level for 2016," Zero Carbon Hub, November, 2009, http://www.zerocarbonhub.orgresourcefiles /Carbon_Compliance_Interim_Report_16_12_10.pdf
41. "What to do if a Compact Fluorescent Light (CFL) Bulb or Fluorescent Tube Light Bulb Breaks in Your Home," US Environmental Protection Agency, Dec. 1, 2010, http://www.deq.state.va.us/export/sites/default/recycle/CFLcleanupguidanceEPA2010.pdf
42. Victoria Allen and Tamara Cohen, "Climate Minister buys a castle with 16 bathrooms…and a massive carbon footprint," Daily Mail, Nov. 18, 2011, http://www.dailymail.co.uk/news/article-2063488/Climate-Minister-buys-castle-16-bathrooms–massive-carbon-footprint.html
43. Light bulb image by KMJ under GNU Free Documentation License
44. Michael O'Brien, "Coalition to Tackle Labor's Smart Meter Stuff Up, Liberal Victoria," November 23, 2010, http://www.russellnorthe.com.au/_blog/Media/post/coalition_to_tackle_labor's_smart_meter_stuff_up/
45. Kenneth Walsh, "Carol Browner on Climate Change: 'The Science Has Just Become Incredibly Clear,'" US News, Mar. 9, 2009, http://www.usnews.com/news/energy/articles/2009/03/09/on-climate-change-the-science-has-just-become-incredibly-clear
46. "The UK Low Carbon Transition Plan," July 20, 2009, http://centralcontent.fco.gov.uk/central-content/campaigns/act-on-copenhagen/resources/en/pdf/DECC-Low-Carbon-Transition-Plan
47. John Carey, "Obama's Smart-Grid Game Plan," Business Week, October 27, 2009, http://www.businessweek.com/technology/content/oct2009/tc20091027_594339.htm
48. US Green Building Council, http://www.usgbc.org/DisplayPage.aspx?CategoryID=19
49. William R. Prindle, "From Shop Floor to Top Floor: Best Business Practices in Energy Efficiency," ICF International, April 2010, http://www.pewclimate.org/energy-efficiency/corporate-energy-efficiency-report
50.Ibid
51. Why We Disagree About Climate Change: Understanding Controversy, Inaction and Opportunity by Mike Hulme, (Cambridge University Press, 2009), p. 341; Spy image by Setreset under Creative Commons Attribution License
52. "Climate Issues May Limit Flights," Belfast Telegraph, February 7, 2009, http://www.belfasttelegraph.co.uk/news/environment/climate-issues-may-limit-flights-14177669.html
53. "UK Air Passenger Duty," HM Revenue and Customs, http://www.hmrc.gov.uk/air-passenger-duty/index.htm
54. "Dutch Government Ditches Eco Ticket Tax in Efforts to Halt Declining Traffic at Amsterdam Schiphol," Green Air On Line, March 30, 2009, http://www.greenaironline.com/news.php?viewStory=412
55. "Heathrow Airport Third Runway Plans are Untenable, Says Judge," Telegraph, March 26, 2010, http://www.telegraph.co.uk/travel/travelnews/7527255/Heathrow-Airport-third-runway-plans-are-untenable-says-judge.html
56. Gordon Pirie, "Airport Agency: Globalization and (Peri)urbanism," Observatoire Reunionnais des Arts, http://laboratoires.univ-reunion.fr/oracle/documents/421.html
57. Zeppelin image by M. Trischler under Creative Commons License; Leaf image by uneekGrafix under GNU Public License
58. "Carbon Offset Calculator," http://www.mygreenflight.com/carbon-calculator
59. Michael Winter, "Congress kills funding for Obama's high-speed rail," USA Today, Nov. 17, 2011, http://content.usatoday.com/communities/ondeadline/post/2011/11/congress-kills-funding-for-obamas-high-speed-rail-plan/1
60. "High-Speed Intercity Passenger Rail Program, Dept. of Transportation, http://www.fra.dot.gov/rpd/passenger/2243.shtml
61. Peter Glover, "Europe's Doomed Flight of Decarbonizing Fancy," Energy Tribune, Jan. 10, 2012, http://www.energytribune.com/articles.cfm/9530/Europes-Doomed-Flight-of-Decarbonizing-Fancy
62. Andrew Parker, "Turbulence hits EU airline pollution scheme," Financial Times, Oct. 3, 2011, http://www.ft.com/intl/cms/s/0/cca023aa-edb3-11e0-a9a9-00144feab49a.html#axzz1rOAfkKVc
63. Glover (See no. 61)
64. PETA, http://www.peta.org/b/thepetafiles/archive/2007/08/29/PETA-to-Gore-Too-Chicken-to-Go-Veg.aspx
65. Sue Blaine, "COP-17: EU adamant on aviation emissions," Business Day, Dec. 8, 2011, http://www.businessday.co.za/articles/Content.aspx?id=160655
66. PETA (See no. 64)
67. "Get Back in the Car: Vegetarian IPCC Chairman Rajendra Pachauri Says Less Meat Will Slow Global Warming More," Science 2.0, September 6, 2008, http://www.science20.com/news_releases/get_back_in_the_car_vegetarian_ipcc_chairman_rajendra_ pachauri_says_less_meat_will_slow_global_warming_more
68. "Saving Carbon, Improving Health," National Health Service, January 2009, http://www.sdu.nhs.uk/documents/publications/1237308334_qylG_saving_carbon,_improving_health_nhs_carbon_reducti.pdf.
69. Martin Hickman, "McCartney Urges Meat-free Days to Tackle Climate Change," Independent, June 15, 2009, http://www.independent.co.uk/life-style/food-and-drink/news/mccartney-urges-meatfree-days-to-tackle-climate-change-1705289.html
70. Support Meat Free Monday, http://www.supportmfm.org/supporters/
71. Tristram Stuart, "Can Vegetarians Save the World?," Guardian, May 16, 2009, http://www.guardian.co.uk/environment/2009/may/16/ghent-belgium-vegetarian-town-environment
72. "Eat Kangaroo to Save the Planet" BBC News, August 9, 2009, http://news.bbc.co.uk/2/hi/uk_news/7551125.stm
73. "United Nations Calls for Insect Diet to Replace Red Meat," MeatInfo, August 2, 2010, http://www.meatinfo.co.uk/news/fullstory.php/aid/11121/United_Nations_calls_for_insect_diet_to_replace_red_meat.html
74. Insect photo by Meutia Chaerani/Indradi Soemardjan under GFDL; Comedy image by Booyabazook under GFDL
75. Louise Gray, "Fat People Causing Climate Change, Says Sir Jonathan Porritt," Telegraph, June 3, 2009, http://www.tele graph.co.uk/earth/environment/climatechange/5436335/Fat-people-causing-climate-change-says-Sir-Jonathan-Porritt.html
76. "Researchers Suggest Link Between Obesity & Global Warming," Scotland Food and Drink, Aug. 16, 2011, http://www.scotlandfoodanddrink.org/news/article-info/2617/scots-researchers-suggest-link-between-obesity-and-global-warming.aspx
77. The Population Bomb by Paul Ehrlich and David Brower (Sierra Club-Ballantine, 1970), p. 5
78. Paul Ehrlich speech at British Institute for Biology, September 1971; Crystal ball image by Eva Kröcher under GFDL
79. "World Population Prospects," UN Department of Economic and Social Affairs, http://esa.un.org/unpd/wpp2008/tab-sorting_fertility.htm
80. "World Fertility Report 2007," UN Department of Economic and Social Affairs, http://www.un.org/esa/population/publications/worldfertilityreport2007/wfr2007-text.pdf
81. Steve Connor, "Overpopulation is Main Threat to Planet," Independent, January 7, 2006, http://www.independent.co.uk/environment/overpopulation-is-main-threat-to-planet-521925.html
82. "Facing a Changing World: Women, Population and Climate," UN Population Fund, 2009, http://www.unfpa.org/swp/2009/en/
83. Brent Baker, "Turner: Global Warming Will Cause Mass Cannibalism, Insurgents Are Patriots," Newsbusters, April 2, 2008, http://newsbusters.org/blogs/brent-baker/2008/04/02/turner-iraqi-insurgents-patriots-inaction-warming-cannibalism
84. Patrick Goodenough, "Chinese Minister Links One-Child Policy to Emissions Reduction at Climate Conference," CNSNews, December 11, 2009, http://www.cnsnews.com/node/58412
85. Edwin Mora, "NYT Environment Reporter Floats Idea: Give Carbon Credits to Couples that Limit Themselves to One Child," CNSNews, October 19, 2009, http://www.cnsnews.com/news/article/55667
86. The Skeptical Environmentalist: Measuring the Real State of the World by Bjorn Lomborg (Cambridge University, 2001), p. 352
87. Climate Change and the Failure of Democracy by David Shearman and Joseph Smith (Praeger, 2007)
88. Leo Hickman, "James Lovelock on the Value of Sceptics and Why Copenhagen was Doomed," Guardian, March 29, 2010, http://www.guardian.co.uk/environment/blog/2010/mar/29/james-lovelock
89. Robert Newman, "It's Capitalism or a Habitable Planet – You Can't Have Both," Guardian, February 2, 2006, http://www.guardian.co.uk/environment/2006/feb/02/energy.comment
90. Do the Right Thing: the People's Economist Speaks by Walter E. Williams (Hoover, 1995), p. 105; Flag image by Ssolbergi under GFDL
91. Evo Morales Ayma, "Evo Morales on Climate Change: Save the Planet from Capitalism!," Links International Journal of Socialist Renewal, November 28, 2008, http://links.org.au/node/769
92. "Sustainable Lifestyles and Educations for Sustainable Consumption," United Nations Environmental Programme, http://esa.un.org/marrakechprocess/pdf/issues_sus_lifestyles.pdf
93. Timothy Wirth address at the 1992 Earth Summit in Rio de Janiero, http://www.climatedepot.com/a/9657/Prof-Larry-Bell-of-Forbes-fires-back-at-RealClimateorg-for-their-desperate-hit-and-run-tactics-against-skeptics; Spy image by Setreset under Creative Commons Attribution License
94. Louise Gray, "Cancun Climate Change Summit: Scientists Call for Rationing in Developed World," Telegraph, November 29, 2010, http://www.telegraph.co.uk/earth/environment/climatechange/8165769/Cancun-climate-change-summit-scientists-call-for-rationing-in-developed-world.html
95. Patrick Wintour, "UN Climate Change Deal Needs More Sacrifices by West, John Prescott Warns," Guardian, August 8, 2009, http://www.guardian.co.uk/environment/2009/aug/08/copenhagen-kyoto-climate-change-talks
96. Climatism! (See no. 10), p. 137-159
97. UN Secretary Ban Ki-Moon, remarks to the World Economic Forum, January 28, 2011, http://www.un.org/apps/news/infocus/sgspeeches/search_full.asp?statID=1057; Flag image by Ssolbergi under GFDL
98. Jacques Chirac, UNFCCC 6th Conference of the Parties speech, Nov. 20, 2000, http://sovereignty.net/center/chirac.html
99. Ban Ki-moon, "We Can Do It," The New York Times, Oct. 25, 2009, http://www.nytimes.com/2009/10/26/opinion/26iht-edban.html
100. Christian Wienberg, "Blizzard Dumps Snow on Copenhagen as Leaders Battle Warming," Bloomberg, Dec. 17, 2009, http://www.bloomberg.com/apps/news?pid=newsarchive&sid=a5wStc0K6jhY
101. Maurice Strong, "Stockholm to Rio: A Journey Down a Generation," http://sovereignty.net/p/gov/ggunreform.htm
102. Sunanda Creagh, "UN Meeting Moots WTO-Style Environment Agency," Reuters, February 26, 2010, http://www.reuters.com/article/2010/02/26/us-un-idUSTRE61P28920100226
103. Anders, "Czech President Klaus: Climate Alarmism is about World Governance and Freedom," Euro-med, Mar 17, 2008, http://euro-med.dk/?p=627
104. "Outcome of the work of the Ad Hoc Working Group on long-term Cooperative Action under the Convention," UNFCCC,  http://unfccc.int/files/meetings/cop_16/application/pdf/cop16_lca.pdf
105. Raven Clabough, "UN Official Admits Cap and Trade is Wealth Redistribution," New American, November 19, 2010, http://www.thenewamerican.com/index.php/world-mainmenu-26/europe-mainmenu-35/5253-un-official-admits-cap-and-trade-is-wealth-redistribution; Spy image by Setreset under Creative Commons Attribution License
106. Income and energy usage from "Key World Energy Statistics 2009, International Energy Agency, http://www.iea.org/textbase/nppdf/free/2009/key_stats_2009.pdf, vehicle usage from the German Federal Statistical Office (Destatis) country reports, http://www.destatis.de/jetspeed/portal/cms/Sites/destatis/Internet/EN/Navigation/Homepage__NT.psml
107. Low Carbon Development Path for Asia and the Pacific, December, 2010, http://www.unescap.org/esd/publications/energy/Series/2010/energy-publication-december-2010.pdf
108. Ibid
109. "Indoor Air Pollution and Health, World Health Organization, June, 2005, http://www.who.int/mediacentre/factsheets/fs292/en/index.html
110. Photograph by Zenman under GFDL
111. "World Bank Approves Multi-Billion-Dollar Loan for Coal-Fired Power Plant in South Africa," Democracy Now, April 9, 2010, http://www.democracynow.org/2010/4/9/world_bank_approves_multibillion_dollar_loan
112. Sarah van Schagen, "A New Reality Series Reveals What It's Like Living with Eco-Celeb Ed Begley Jr.," Grist, January 2, 2007, http://www.grist.org/article/begley/
113. Wind turbines in the Tehachapi Mountains of California, photograph by Stan Shebs under GFDL
114. Climatism! (See no. 10), p. 308-312
115. Eco-Imperialism: Green Power, Black Death by Paul Driessen (Free Enterprise Press, 2003), p. 42
116. Julia Gillard, "Carbon Price Now or We'll Pay Later," Sydney Morning Herald National Times, November 17, 2010, http://www.smh.com.au/opinion/politics/carbon-price-now-or-well-pay-later-20101116-17vti.html
117. St. Bernard photograph from Wikipedia under Creative Commons Generic License
118. Marc Morano, "Inhofe Slams New Cap-and-Trade Bill as All Economic Pain for No Climate Gain," US Senate Committee on Environment and Public Works: Minority Page, October 2007, http://epw.senate.gov/public/index.cfm? FuseAction=Minority.Blogs&ContentRecord_id=b4f81115-802a-23ad-4e54-f0137d7a406f&Issue_id=
119. Jeff Coelho, "Global carbon market value rises to record $176 billion," Reuters, May 30, 2012, http://www.reuters.com/article/2012/05/30/us-world-bank-carbon-idUSBRE84T08720120530
120. "Europe's Dirty Secret: Why the EU emissions Trading Scheme Isn't Working," Open Europe, August, 2007, http://www.openeurope.org.uk/research/etsp2.pdf
121. "About CDM," UNFCCC, http://cdm.unfccc.int/about/index.html
122. Paul Watson, "The Beginning of the End for Life as We Know it on Planet Earth," Sea Shepherd Deutschland, May 4, 2007, http://de.seashepherd.org/news-and-media/editorial-070504-1.html
123. Nils Klawitter, "Will Trading System Encourage Emissions?" Spiegel Online, December 30, 2010, http://www.spiegel.de /international /business/0,1518,736801,00.html
124. John Heilprin, "UN Carbon Trading Scheme: $2.7 Billion Market Could Be Biggest Environmental Scandal in History," Huffington Post, October 21, 2010, http://www.huffingtonpost.com/2010/08/23/un-carbon-trading-scheme-_n_690958.html
125. Ibid
126. "Denmark Rife with CO2 Fraud," The Copenhagen Post, December 1, 2009, http://www.cphpost.dk/news/national/88-national/47643-denmark-rife-with-co2-fraud.html
127. Mark Shapiro, "Carbon Carousel: European Market a Haven for Tax Fraud," Center for Investigative Reporting, June 15, 2010, http://www.pbs.org/frontlineworld/stories/carbonwatch/2010/06/carbon-carousel-europes-market-haven-for-tax-fraud.html
128. Rowena Mason, "The Great Carbon Trading Scandal," Telegraph, January 30, 2011, http://www.telegraph.co.uk/finance/newsbysector/energy/8290533/The-great-carbon-trading-scandal.html
129. Alexander Jung, "The Pitfalls of Europe's New Emissions Trading System," Spiegel, December 30, 2010, http://www.spiegel.de/international/business/0,1518,736798,00.html
130. Ibid
131. "CRC – carbon reduction commitment," http://www.ukcrc.co.uk/
132. "Tata Steel fears effects of carbon tax in Budget, BBC News, Mar. 24, 2011, http://www.bbc.co.uk/news/uk-wales-12847929
133. Walter Olson, "Australians to punish carbon tax criticism," US Action News, http://usactionnews.com/2011/11/australians-to-punish-carbon-tax-criticism/
134. "Australian Cabinet to vote on carbon tax," Energy Daily, Aug. 17, 2011, http://www.energy-daily.com/reports/Australian_Cabinet_to_vote_on_carbon_tax_999.html

Chapter 3 Notes (pages 47-53)
1. Climatic Research Unit, University of East Anglia, http://www.cru.uea.ac.uk/
2. Intergovernmental Panel on Climate Change, Third Assessment Report, Working Group I, Summary for Policy Makers, (2001) p. 2
3. CRU HadCRUT3 data set, http://www.metoffice.gov.uk/hadobs/hadcrut3/index.html
4. National Oceanic and Atmospheric Administration, Earth System Research Laboratory, http://www.esrl.noaa.gov/gmd/ccgg/trends/
5. Intergovernmental Panel on Climate Change, Fourth Assessment Report, Synthesis Report, (2007), p. 46
6. Climate Change: Picturing the Science by Gavin Schmidt and Joshua Wolfe (Norton, 2009), p. 31, 32, 81, 87, 96, 102, 108, 109
7. Mead Gruver, "Construction begins on $100m climate supercomputer in Wyo.," USAToday, June 15, 2010, http://www.usatoday.com/weather/research/2010-06-15-climate-supercomputer-wyoming_N.htm
8. Megan McArdle, "Scientists: Aliens May Punish Our Species for Climate Change," The Atlantic, August, 2011, http://www.theatlantic.com/national/archive/2011/08/scientists-aliens-may-punish-our-species-for-climate-change/243886/
9. S. Fred Singer, "Nature, Not Human Activity, Rules the Climate," The Heartland Institute, 2008

Chapter 4 Notes (pages 55-69)
1. The Nobel Peace Prize 2007, http://nobelprize.org/nobel_prizes/peace/laureates/2007/ipcc-lecture_en.html
2. Intergovernmental Panel on Climate Change, Fourth Assessment Report, Synthesis Report, (2007), p. 39
3. Intergovernmental Panel on Climate Change, Fourth Assessment Report, Working Group I, Chapter 6 (2007), p. 468
4. Clown photograph by Rick Dikeman under GFDL
5. The Official Tourism Site of Greenland, http://www.greenland.com/en/about-greenland/kultur-sjael/historie/vikingetiden/erik-den-roede.aspx
6. Bianca, "The Inuit of the Arctic Regions of Canada, Greenland, Russia & Alaska, http://atlantisonline.smfforfree2.com/index.php/topic,16044.25/wap2.html
7. "Cologne Cathedral," http://www.sacreddestinations.com/germany/cologne-cathedral
8. Photo by Jacob Munksgaard
9. Luc Sorel, "Climatic changes, the Norsemen and the Modern Man, 2001, http://www.lucsorel.com/media/research/2001_ClimaticChangesNorsemenAndTheModernMan_Sorel.pdf
10. Ibid
11. Fred Singer and Dennis Avery, "The Physical Evidence of Earth's Unstoppable 1,500-year Climate Cycle, NCPA Policy Report, No. 279, September, 2005, http://www.ncpa.org/sub/dpd/index.php?Article_ID=2319
12. Image of painting by Thomas Wyke, 1683, public domain
13. Devin Powell, "Columbus blamed for Little Ice Age," ScienceNews, October 13, 2011, http://www.sciencenews.org/index.php/feed/label_id/2529/name/Paleontology.rss/view/generic/id/335168/title/ Columbus_blamed_for_Little_Ice_Age
14. Haken Grudd, "Tornetrask tree-ring width and density AD 500-2004: a test of climatic sensitivity and a new 1500-year reconstruction of north Fennoscandian summers," Climate Dynamics, vol. 31, 30 January, 2008, pp.842-857
15. Karin Holmgren et al., "A preliminary 3000-year regional temperature reconstruction for South Africa," South African Journal of Science, Vol. 97, 2001, pp. 49-51
16. Grudd, (See no. 14), and CO2Science, http://www.co2science.org/data/mwp/studies/l1_tornetrask.php
17. Holmgren, (See no. 15), and CO2Science, http://www.co2science.org/data/mwp/studies/l1_coldaircave.php
18. Delia Oppo et al., "2,000-year-long temperature and hydrology reconstructions from the Indo-Pacific warm pool," Nature, Vol. 460, 2009, pp. 1113-1116
19. Ibid
20. Quansheng Ge et al., "Winter half-year temperature reconstruction for the middle and lower reaches of the Yellow River and Yangtze River, China, during the past 2000 years," The Holocene, Vol. 13, 2003, pp. 933-940
21. Andrei Andreev et al., "Environmental changes in the northern Altai during the last millennium documented in Lake Teletskoye pollen record," Quaternary Research, Vol. 67, 2007, pp. 394-399
22. Ge, (See no. 20), and CO2Science, http://www.co2science.org/data/mwp/studies/l1_easternchina.php
23. Andreev, (See no. 21), and CO2Science, http://www.co2science.org/data/mwp/studies/l1_laketeletskoye.php
24. Julie Richey et al., "1400 yr multiproxy record of climate variability from the northern Gulf of Mexico," Geology, Vol. 35, 2007, pp. 423-426
25. Ibid and CO2Science, http://www.co2science.org/data/mwp/studies/l1_pigmybasin.php
26. CO2Science, http://www.co2science.org/data/mwp/mwpp.php
27. Unstoppable Global Warming Every 1500 Years by S. Fred Singer and Dennis Avery, (Rowman & Littlefield, 2007), p. 1
28. W. Dansgaard et al., "North Atlantic Climate Oscillations Revealed by Deep Greenland Ice Cores," Climate Processes and Climatic Sensitivity, 1984, pp. 288-298, adapted by Dennis Avery, Presentation at the International Conference on Climate Change, Mar. 9, 2009
29. "NASA Research Finds Last Decade was Warmest on Record, 2009 One of Warmest Years," NASA press release January 21, 2010, http://www.nasa.gov/home/hqnews/2010/jan/HQ_10-017_Warmest_temps.html
30. Bob Carter, video "Climate Change – Is CO2 the Cause?," http://www.youtube.com/watch?v=FOLkze-9GcI; Polar bear photograph by Alan Wilson licensed under Creative Commons Attribution-Share Alike 3.0 Unported License.
31. William Happer, "The Truth About Greenhouse Gases," First Things, May 21, 2011,http://www.firstthings.com/article/2011/05/the-truth-about-greenhouse-gases
32. Intergovernmental Panel on Climate Change, Third Assessment Report, Summary for Policy Makers, (2007), p. 1
33. Michael Mann et al., "Global-scale temperature patterns and climate forcing over the past six centuries," Nature, Vol. 392, Apr. 23, 1998
34. David Deming, testimony before the US Senate Committee on Environment and Public Works, Dec. 12, 2006, http://epw.senate.gov/hearing_statements.cfm?id=266543
35. Intergovernmental Panel on Climate Change, Second Assessment Report (1995), Figure 22
36. Intergovernmental Panel on Climate Change, Third Assessment Report, Working Group I, Summary for Policy Makers, (2001), p. 2, http://www.grida.no/publications/other/ipcc_tar/
37. Intergovernmental Panel on Climate Change, Fourth Assessment Report, Working Group I, Technical Summary, (2007), p. 55, http://www.ipcc.ch/publications_and_data/ar4/wg1/en/contents.html
38. Stephen McIntyre and Ross McKitrick, "Hockey sticks, principle components, and spurious significance," Geophysical Research Letters, vol. 32, Oct. 14, 2004
39. Ibid
40. "Global Warming or Cooling," http://www.lowerwolfjaw.com/agw/quotes.htm; Image by Eva Kröcher under GFDL
41. Adapted from Climate4You, http://www.climate4you.com/; data from NOAA Mauna Loa and from CRU HadCRUT3
42. E-mail from Kevin Trenberth to Myles Allen, Keith Briffa, James Hansen, Phil Jones, Thomas Karl, Michael Mann, Michael Oppenheimer, Benjamin Santer, Gavin Schmidt, Steven Schneider, Peter Stott, and Tom Wigley, "The Climategate Emails," Lavoisier Group, Oct. 12, 2009, http://www.lavoisier.com.au/articles/greenhouse-science/climate-change/climategate-emails.pdf
43. El Niño, National Oceanic and Atmospheric Adminstration, http://www.elnino.noaa.gov/
44. Adapted from Climate4You, http://www.climate4you.com/; data from University of Washington, JISAO
45. "The Pacific Decadal Oscillation," University of Washington, http://jisao.washington.edu/pdo/
46. Syun-Ichi Akasofu, "Is the Earth Still Recovering from the 'Little Ice Age?,' A Possible Cause of Global Warming," http://www.wright.edu/~guy.vandegrift/climateblog/s06/akasofu.LIAge.pdf

Chapter 5 Notes (pages 71-99)
1. Storms of My Grandchildren: The Truth About the Coming Climate Catastrophe and Our Last Chance to Save Humanity by James Hansen (Bloomsbury USA, 2009), p. 49
2. After diagram by Timothy Ball; sun image from Solar and Heliospheric Observatory, NASA, http://sohowww.nascom.nasa.gov/; Jupiter and Io image from Don Davis; Cloud image by Przemyslaw under Creative Commons Attribution-Share Alike Generic License; Wave image by PDphoto; Coral reef image by Habeeb; Abissal fish image by Francesco Costa under GFDL; Volcano image by Austin Post; City image by Storylanding under Creative Commons License; Joshua tree image by Joho345 under Creative Commons License; Forest image by Malene Thyssen under GFDL; Glacier image by Tobias Alt under GFDL
3. Glenn Elert, "Mass of the Atmosphere," The Physics Fact Book, 1999, http://hypertextbook.com/facts/1999/LouiseLiu.shtml
4. Steve Connor, "Letters to a heretic: An E-mail conversation with climate change sceptic Professor Freeman Dyson," Independent, Feb. 25, 2011, http://www.independent.co.uk/environment/climate-change/letters-to-a-heretic-an-email-conversation-with-climate-change-sceptic-professor-freeman-dyson-2224912.html
5. Intergovernmental Panel on Climate Change, Fourth Assessment Report, Working Group I, Summary for Policymakers (2007), p. 3
6. Ibid, p. 2
7. Siple Dome drilling rig photograph from Los Alamos National Laboratory, http://public.lanl.gov/sprice/images/wais99/page2.html
8. Ice core photograph by Emily Stone, National Science Foundation, http://photolibrary.usap.gov/AntarcticaLibrary/CORECLOSEUP.JPG
9. Zabigniew Jaworowski, "Ice Core Data Show No Carbon Dioxide Increase," 21st Century, Spring 1997, http://www.21stcenturysciencetech.com/2006_articles/IceCoreSprg97.pdf
10. Ibid
11. Ibid
12. Spiderwort photograph by David Byres, http://www1.fccj.cc.fl.us/dbyres/bsc_2010c.htm
13. Lenny Kouwenberg et al., "Application of Conifer Needles in the Reconstruction of Holocene CO2, Levels," PhD Thesis, University of Utrecht, Jan. 16, 2004, http://igitur-archive.library.uu.nl/dissertations/2004-0128-122010/inhoud.htm
14. Thomas van Hoof et al., "Atmospheric CO2 during the 13th Century AD: reconciliation of data from ice core measurements and stomatal frequency analysis," Tellus, 2005, 57B, pp. 351-355, http://www.phys.uu.nl/~wal/research/papers/hoofetal2005.pdf
15. Kouwenberg (See no. 13)
16. J. R. Petit et al., "Climate and Atmospheric History of the Past 420,000 Years from the Vostok Ice Core, Antarctica," Nature, v. 399, June 3, 1999, pp. 429-436
17. The 7-12°C according to Unstoppable Global Warming Every 1500 Years by S. Fred Singer and Dennis Avery, but scientists are not really searching for SUV and coal plant remains; Einstein image public domain; Comedy image by Booyabazook under GFDLC
18. Lorius et al., "The Ice-Core Record: Climate Sensitivity and Future Greenhouse Warming, "Nature, v. 347, Sep. 13, 1990, pp. 139-145
19. Canon of Insolation and the Ice-Age Problem by Milutin Milankovic, 1941, (Agency for Textbooks, 1998)
20. Hubertus Fischer et al., "Ice Core Records of Atmospheric CO2 around the Last Three Glacial Terminations," Science, v. 283, mar. 12, 1999, pp. 1712-1714
21. Intergovernmental Panel on Climate Change, Fourth Assessment Report, Working Group I, (2007), p. 501
22. Ibid, p. 515
23. Ibid, p. 515
24. Tom Segelstad, "Carbon Cycle Modeling and the Residence Time of Natural and Anthropogenic Atmospheric CO2: On the Constructon of the 'Greenhouse Effect Global Warming Dogma," http://www.geocraft.com/WVFossils/Reference_Docs/Carbon_cycle_update_Segalstad.pdf
25. "Henry's Law and the Solubility of Gases," Introductory University Chemistry I, http://dwb.unl.edu/teacher/nsf/c09/c09links/www.chem.ualberta.ca/courses/plambeck/p101/p01182.htm
26. "Climate change' could spark more volcanoes, earthquakes and tsunamis,'" Daily Mail, Apr. 19, 2010, http://www.dailymail.co.uk/sciencetech/article-1267137/Climate-change-spark-volcanoes-earthquakes-tsunamis.html
27. Barry Woods, "Simple Physics – In reality my feather blew up into a tree," WattsUpWithThat, Dec. 28, 2010, http://wattsupwiththat.com/2010/12/28/simple-physics-in-reality-my-feather-blew-up-into-a-tree/
28. Gavin Schmidt et al., "The attribution of the present-day total greenhouse effect," NASA Goddard Institute for Space Studies, draft paper, August 10, 2010
29. It is true that water vapor is nature's most abundant greenhouse gas, but it's not true that the EPA is considering whether to declare water a pollutant; Einstein image public domain; Comedy image by Booyabazook under GFDL
30. Roy Spencer, "Global Warming and Nature's Thermostat," http://petesplace-peter.blogspot.com/2008/01/global-warming-and-natures-thermostat.html
31. Richard Lindzen, "Understanding Common Climate Claims," proceedings of the 2005 ERICE Meeting of the World Federation of Scientists on Global Emergencies, 2005
32. David Archibald, "Solar Cycle 24: Implications for the United States," presented at the International Conference on Climate Change, March, 2008
33. Syukuro Manabe and Richard Wetherald, "Thermal Equilibrium of the Atmosphere with a Given Distribution of Relative Humidity," Geophysical Fluid Dynamics Laboratory, ESSA, pp.241-259, Nov. 2, 1996
34. Intergovernmental Panel on Climate Change, Fourth Assessment Report, Working Group I, Summary for Policy Makers (2007), p. 12
35. Adapted from Climate4You, http://www.climate4you.com/, data from International Cloud Climatology Project
36. Richard Lindzen and Yong-Sang Choi, "On the Observational Determination of Climate Sensitivity and Its Implications," Asia-Pacific Journal of Atmospheric Science, 47(4), pp. 377-390, May 22, 2011
37. Roy Spencer and William Braswell, "On the Diagnosis of Radiative Feedback in the Presence of Unknown Radiative Forcing," Journal of Geophysical Research, v. 115, August 24, 2010
38. David Douglass et al., "A comparison of tropical temperature trends with model predictions," International Journal of Climatology, October 11, 2007
39. David Evans, "Climate models go cold," Financial Post, Apr. 7, 2011, http://opinion.financialpost.com/2011/04/07/climate-models-go-cold/
40. Andrew Orlowski, "Would putting all the climate scientists in a room solve global warming…," The Register, May 13, 2011, http://www.theregister.co.uk/2011/05/13/downing_cambridge_climate_conference/print.html
41. Intergovernmental Panel on Climate Change, Fourth Assessment Report, Working Group I, (2007), p. 675
42. "Temperature Trends in the Lower Atmosphere," US Climate Change Science Program, April 2006, p. 116
43. Robert Allen and Steven Sherwood, "Utility of Radiosonde Wind Data in Representing Climatological Variations of Trospheric Temperature and Baroclinicity in the Western Tropical Pacific," Journal of Climate, v. 20, Feb. 27, 2007
44. Intergovernmental Panel on Climate Change, Fourth Assessment Report, Working Group I, (2007), p. 691
45. J. Beer et al., "The role of the sun in climate forcing," Quaternary Science Reviews, 19, 2000, pp. 403-415
46. Douglas Hoyt and Kenneth Schatten, "Group Sunspot Numbers: A New Solar Activity Reconstruction," Solar Physics, v. 181, iss. 2, pp. 491-512 (1998)
47. Douglas Hoyt and Kenneth Schatten, "A Discussion of Plausible Solar Irradiance Variations, 1700-1992," Journal of Geophysical Research, v. 98, no. A11, pp. 18,895-18,906, Nov. 1, 1993
48. Ibid
49. Hoyt (See no. 46)
50. Diagram adapted from Climate Data Information, http://www.climatedata.info/Forcing/Forcing/sunspots.html
51. Solar and Heliospheric Observatory, NASA, http://sohowww.nascom.nasa.gov/
52. US Air Force photograph, 2006
53. Henrik Svensmark, "Cosmoclimatology: a new theory emerges," Astronomy and Geophysics, Feb. 2007, v. 48
54. "Scientists Trace Heat Wave to Massive Star at Center of Solar System," The Onion, August 8, 2011, http://www.theonion.com/articles/scientists-trace-heat-wave-to-massive-star-at-cent,21088/; Comedy image by Booyabazook under GFDL
55. Nigel Marsh and Henrik Svensmark, "Cosmic Rays, Clouds, and Climate," Space Science Reviews, v. 94, pp. 215-230, May 10, 2000
56. "The SKY Experiment," http://www.space.dtu.dk/English/Research/Research_divisions/Sun_Climate/Experiments_SC/SKY.aspx
57. Nigel Calder, "CERN experiment confirms cosmic ray action," Aug. 24, 2011, http://calderup.wordpress.com/2011/08/24/cern-experiment-confirms-cosmic-ray-action/
58. The Chilling Stars: A New Theory of Climate Change by Henrik Svensmark and Nigel Calder, (Totem Books, 2003)
59. "Scientists at Aarhus University (AU) and the National Space Institute (DTU Space) Show that Particles from Space Creates Cloud Cover," Aarhus University, May 16, 2011, http://science.au.dk/en/news-and-events/news-article/artikel/forskere-fra-au-og-dtu-viser-at-partikler-fra-rummet-skaber-skydaekke/
60. "CERN's CLOUD experiment provides unprecedented insight into cloud formation," CERN press release, August 25, 2011, http://press.web.cern.ch/press/PressReleases/Releases2011/PR15.11E.html
61. Image by Joanne Nova, 2011, http://joannenova.com.au/
62. Andrew Orlowski, "CERN 'gags'physicists in cosmic ray climate experiment," The Register, July 18, 2011, http://www.theregister.co.uk/2011/07/18/cern_cosmic_ray_gag/
63. Henrik Svensmark, "Cosmic Rays and Earth's Climate," Aug. 13, 1999, http://ruby.fgcu.edu/courses/twimberley/EnviroPhilo/Svensmark.pdf

Chapter 6 Notes (pages 101-112)
1. "Climate Change and Sea Level," Department of Geosciences Environmental Studies Laboratory, Univ. of Arizona, 2011, http://www.geo.arizona.edu/dgesl/research/other/climate_change_and_sea_level/climate_change_and_sea_level.htm
2. The Economics of Climate Change: The Stern Review by Nicholas Stern (Cambridge University Press, 2007)
3. An Inconvenient Truth: The Planetary Emergency of Global Warming and What We Can Do About It by Al Gore (Rodale, 2006)
4. Jim Hansen, "Climate Change: On the Edge," Independent, February 17, 2006, http://www.independent.co.uk/environment/climate-change-on-the-edge-466818.html
5. Jonathan Amos, "Arctic summers ice-free 'by 2013,'" BBC News, Dec. 12, 2007, http://news.bbc.co.uk/2/hi/7139797.stm
6. Ibid
7. Andrew Revkin, "Arctic Melt Unnerves the Experts," The New York Times, Oct. 2, 2007, http://www.nytimes.com/2007/10/02/science/earth/02arct.html
8. "The Cryosphere Today," The Polar Research Group, Department of Atmospheric Sciences, University of Illinois, http://arctic.atmos.uiuc.edu/cryosphere/
9. Anthony Watts, "You ask, I provide. November 2nd, 1922. Arctic Ocean Getting Warm; Seals Vanish and Icebergs Melt," WattsUpWithThat, March 16, 2008, http://wattsupwiththat.com/2008/03/16/you-ask-i-provide-november-2nd-1922-arctic-ocean-getting-warm-seals-vanish-and-icebergs-melt/
10. Cryosphere (See no. 8)
11. Adapted from Climate4You, http://www.climate4you.com/, data from John Christy and Roy Spencer, University of Alabama Huntsville, 2011
12. British Antarctic Survey, http://www.nerc-bas.ac.uk/icd/gjma/temps.html
13. From Steve Deyo diagram, copyright University Corporation for Atmospheric Research, 2008, http://www.fin.ucar.edu/netpub/server.np?find&site=imagelibrary&catalog=catalog&template=detail.np&field=itemid&op=matches&value=2670
14. Amundsen-Scott South Pole station, US government photo
15. "Amundsen-Scott South Pole Station," National Science Foundation Office of Polar Programs, http://www.nsf.gov/od/opp/support/southp.jsp
16. Greenland ice melt photo by Roger Braithwaite, University of Manchester, NASA website, http://www.giss.nasa.gov/research/briefs/gornitz_09/
17. GISS Surface Temperature Analysis, NASA Goddard Institute for Space Studies, http://data.giss.nasa.gov/cgi-bin/gistemp/findstation.py?datatype=gistemp&data_set=1&name=&world_map.x=285&world_map.y=55
18. Karen Jensen, ""'Glacier Girl' The Back Story," Air & Space Magazine, July 1, 2007, http://www.airspacemag.com/history-of-flight/FEATURE-glaciergirl-backstory.html
19. Jeffrey Kluger, "How the Ice in Your Drink is Imperiling the Planet," Time.com, Apr. 14, 2011, http://ecocentric.blogs.time.com/2011/04/14/how-the-ice-in-your-drink-is-imperiling-the-planet/
20. Jensen (See no. 18)
21. Adapted from NASA, 2007, http://www.giss.nasa.gov/research/briefs/gornitz_09/
22. Arthur Robinson et al., "Environmental Effects of Increased Atmospheric Carbon Dioxide," Journal of American Physicians and Surgeons, v. 12, pp. 79-90, 2007
23. "From under water, Maldives sends warning on climate change," CNN World, Oct. 17, 2009, http://articles.cnn.com/2009-10-17/world/maldives.underwater.meeting_1_maldives-climate-change-sea-levels?_s=PM:WORLD
24. Robert Engelman, "Carl Sagan: Fossil Fuels Bring Trouble," The Vindicator, Dec. 12, 1985, http://news.google.com/newspapers?id=rKM_AAAAIBAJ&sjid=RVYMAAAAIBAJ&pg=3633,6912687&dq=global+warming&hl=en
25. Broward County Climate Action Plan, May 2010
26. Ibid
27. John Upton, "Bay Area Adopts Historic Climate-Change Rules, The Bay Citizen, Oct. 6, 2011, http://www.baycitizen.org/development/story/bay-area-adopts-sea-level-rise-building/
28. George Quraishi, "Frostbite Chomps Arctic Ocean 2007 Expedition," National Geographic Adventure Magazine, Apr. 13, 2007, http://www.nationalgeographic.com/adventure/news/liv-arnesen-frostbite.html
29. Andrew Bolt, "Another polar rescue must send chills down the spines of alarmists," Herald Sun, Apr. 23, 2010 http://www.heraldsun.com.au/opinion/another-polar-rescue-must-send/story-e6frfhqf-1225856131380
30. Stefan Lovgren, "Warming to Cause Catastrophic Rise in Sea Level," National Geographic News, Apr. 26, 2004, http://news.nationalgeographic.com/news/2004/04/0420_040420_earthday.html
31. Bolt (See no. 29)
32. Chris Folland, presentation to climatologists, August 13, 1991, Sound and Fury: The Science and Politics of Global Warming by Patrick Michaels (Cato Institute, 1992), p. 83
33. Willie Soon, Presentation at the International Conference on Climate Change, June 2, 2009
Chapter 7 Notes (pages 113-126)
1. Tony Hake, "Five killed, dozens injured when winds topple Indiana State Fair stage," Examiner, August 15, 2011, http://www.examiner.com/natural-disasters-in-national/five-killed-dozens-injured-when-winds-topple-indiana-state-fair-stage
2. Scott Whitlock, "Diane Sawyer Uses Wind Disaster to Hype Global Warming: 'Weather Gone Wild,'" Newsbusters, August 16, 2011, http://newsbusters.org/blogs/scott-whitlock/2011/08/16/diane-sawyer-uses-wind-disaster-hype-global-warming-weather-gone-wild
3. 'Weather and Climate in Singapore," Guide Me Singapore, http://www.guidemesingapore.com/relocation/introduction/climate-in-singapore
4. "Meet Tom Udall: New Mexico Senator is Determined to Warn America about Climate Change," http://climateadaptation.tumblr.com/post/5067881286/tom-stewart-udall-utah-climate-change
5. Bill McKibben, "Global Warming's Heavy Cost," The Daily Beast, August 25, 2011, http://www.thedailybeast.com/articles/2011/08/25/hurricane-irene-can-be-tied-to-global-warming-says-bill-mckibben.html
6. Sharon Begley, "Are you ready for more?," Newsweek, May 29, 2011, http://www.thedailybeast.comnewsweek/2011/05/29/are-you-ready-for-more.html
7. Ibid.
8. Alec Rawls, "Yes, impossibly stupid 'weather panic' is the new normal,'" Watts Up With That?, June 3, 2011, http://wattsupwiththat.com/2011/06/03/yes-impossibly-stupid-weather-panic-is-the-new-normal/
9. Joseph D'Aleo, "Uh, oh…the clash of ice and warmth brings storms," Watts Up With That?, April 9, 2011, http://wattsupwiththat.com/2011/04/09/uh-oh-2/
10. Kerry Emanuel, "Increasing destructiveness of tropical cyclones over the past 30 years," Nature, vol. 436, August 4, 2005, pp. 686-688
11. William Gray, "Gross Errors in the IPCC-AR4 Report Regarding Past and Future Changes in Global Tropical Cyclone Activity," Science and Public Policy Institute, Oct. 11, 2011, http://scienceandpublicpolicy.org/originals/gross_errors_ipcc_ar4.html
12. Rawls (See no. 8)
13. Intergovernmental Panel on Climate Change, Fourth Assessment Report, Summary for Policy Makers, p. 15
14. Christopher Landsea et al., "Can We Detect Trends in Extreme Tropical Cyclones?," Science, vol. 313, July 28, 2006, pp. 452-454
15. Hell and High Water: Global Warming—the Solution and the Politics—and What We Should Do by Joseph Romm (HarperCollins, 2007), p. 90
16. Open Letter to the Community from Chris Landsea, January 17, 2005, http://www.climatechangefacts.info/ClimateChangeDocuments/LandseaResignationLetterFromIPCC.htm
17. Comedy image by Booyabazook under GFDL
18. Ryan Maue, Global Tropical Cyclone Activity Update, 2011, http://policlimate.com/tropical/
19. Gray (See no. 11)
20. "Satellite Studies," Center for Ocean-Atmospheric Prediction Studies, Florida State University, http://coaps.fsu.edu/satellite.shtml
21. Ryan Maue, "Global hurricane activity at historical lows," June 27, 2011, http://www.outlookseries.com/A0996/Science/3925_Ryan_Maue_FSU_Global_hurricane_activity_historical_lows_Ryan_Maue.htm
22. Jeff Masters, "Tropical Storm Paula Forming," Wunderblog, October 11, 2010, http://weather.wb11.com/blog/JeffMasters/comment.html?entrynum=1652&tstamp=&page=14
23. US Tornado Climatology, National Climatic Data Center, http://lwf.ncdc.noaa.gov/oa/climate/severeweather/tornadoes.html
24. Roy Spencer, "MORE Tornadoes from Global Warming? That's a Joke, Right?," April 29, 2011, http://www.drroyspencer.com/2011/04/more-tornadoes-from-global-warming-thats-a-joke-right/
25. Richard Lindzen, "Understanding Common Climate Claims," draft paper, 2005, http://www.geocraft.com/WVFossils/Reference_Docs/Lindzen_2005_Climate_Claims.pdf
26. The Climate Crisis: An Introductory Guide to Climate Change by David Archer and Stefan Rahmsdorf, (Cambridge University Press, 2010), p. 147
27. Charles Onians, "Snowfalls are now just a thing of the past," Independent, March 20, 2000, http://www.independent.co.uk/environment/snowfalls-are-now-just-a-thing-of-the-past-724017.html
28. Ian Herbert, "Snowdon will be snow-free in 13 years, scientists warn," Independent, January 18, 2007, http://www.independent.co.uk/environment/climate-change/snowdon-will-be-snowfree-in-13-years-scientists-warn-432596.html
29. T.P. Barnett et al., "Anthropogenic Global Warming and the Western USA's Diminishiing Snowpack: A Link," Waterwired, January 4, 2008, http://aquadoc.typepad.com/waterwired/2008/01/global-warming.html
30. Climate Change: Picturing the Science by Gavin Schmidt and Joshua Wolfe (Norton, 2009)
31. Benny Peiser, "Warm Bias: How the Met Office Misled the British Public," gwpf.org, December 18, 2010, http://www.thegwpf.org/uk-news/2073-warm-bias-how-the-met-office-mislead-the-british-public.html
32. Auslan Cramb, "Scottish ski industry could disappear due to global warming, warns Met Office," Telegraph, February 10, 2009, http://www.telegraph.co.uk/news/uknews/scotland/4579829/Scottish-ski-industry-could-disappear-due-to-global-warming-warns-Met-Office.html
33. Laura Clout, "British UFO sightings at 'bizarre' levels," Telegraph, July 7, 2008, http://www.telegraph.co.uk/news/newstopics/howaboutthat/2261941/British-UFO-sightings-at-bizarre-levels.html, Hot earth image by Jack1 under GFDL
34. Jonathan Harwood, "Climate sceptics seize on Scotland's coldest winter," FirstPost, February 2, 2010, http://www.thefirstpost.co.uk/59215,news-comment,news-politics,scotland-endures-coldest-winter-says-met-office
35. Peiser (See no. 31)
36. Frozen Britain seen from above, BBC News, January 7, 2010, http://news.bbc.co.uk/2/hi/8447023.stm
37. "Louise Ellman Asked to probe Met Office's 'Conflicting' Winter Weather Advice," Local Transport Today, January 15, 2011, http://www.thegwpf.org/uk-news/2267-ellman-asked-to-probe-met-offices-conflicting-winter-weather-advice.html
38. James Delingpole, "The Met office: lousier than a dead octopus," Telegraph, December 2, 2010, http://blogs.telegraph.co.uk/news/jamesdelingpole/100066366/why-did-we-slide-into-chaos-well-duh/
39. Paul Hudson, "December 2010 update: Second coldest since 1659," BBC, January 4, 2011, http://www.bbc.co.uk/blogs/paulhudson/2011/01/december-2010-update-second-co.shtml
40. "Heathrow airport triples snow clearance fleet," BBCNews, September 29, 2011, http://www.bbc.co.uk/news/uk-england-london-15105627
41. Anthony Watts, "There's no business like snow business," WattsUpWithThat?, February 23, 2010, http://wattsupwiththat.com/2010/02/23/theres-no-business-like-snow-business/
42. "United States of Snow," CBSNews, February 12, 2010, http://www.cbsnews.com/stories/2010/02/12/national/main6202529.shtml
43. "Winter of 2010-2011 in Europe," Wikipedia, http://en.wikipedia.org/wiki/Winter_of_2010%E2%80%932011_in_Europe
44. Anthony Watts, "Western snow pack is well above normal, Squaw Valley sets new all time snow record," WattsUpWithThat?, http://wattsupwiththat.com/2011/05/18/western-snow-pack-is-well-above-normal-squaw-valley-sets-new-all-time-snow-record/
45. Lake Powell Water Database, September 28, 2011, http://lakepowell.water-data.com/
46. Richard Alleyne, "Snow is consistent with global warming, say scientists," Telegraph, February 3, 2009, http://www.telegraph.co.uk/topics/weather/4436934/Snow-is-consistent-with-global-warming-say-scientists.html
47. Daniel Huber and Jay Gulledge, "Extreme weather and climate change: Understanding the link, managing the risk," Pew Center on Global Climate Change, June 2011, http://www.pewclimate.org/docUploads/white-paper-extreme-weather-climate-change-understanding-link-managing-risk.pdf
48. Photo by dbking under Creative Commons Attribution 2.0 License, Hot earth image by Jack1 under GFDL
49. Al Gore, "An answer for Bill," Al Journal, February 1, 2011, http://blog.algore.com/2011/02/an_answer_for_bill.html
50. James Delingpole, "Signs that show Man-made Global Warming is Definitely Still Happening," Telegraph, Dec. 3, 2010, http://blogs.telegraph.co.uk/news/jamesdelingpole/100066594/signs-that-show-man-made-global-warming-is-definitely-still-happening/
51. George Monbiot, "Cancún climate change summit: Is God determined to prevent a deal?," Guardian, December 2, 2010, http://www.guardian.co.uk/environment/georgemonbiot/2010/dec/02/cancun-climate-change-summit-monbiot
52. George Monbiot, "I'm all for putting more vehicles on our roads. As long as they're coaches," Guardian, Dec. 5, 2006, http://www.cicle.org/wordpress/2006/12/05/im-all-for-putting-more-vehicles-on-our-roads-as-long-as-theyre-coaches-2/
53. Anthony Watts, "'Gore effect' strikes Cancun Climate Conference 3 days in a row," WattsUpWithThat?, http://wattsupwiththat.com/2010/12/08/gore-effect-strikes-cancun-climate-conference-3-days-in-a-row/
54. Conor Clarke, "An Interview with Thomas Schelling, Part Two" Atlantic Wire, July 13, 2009, http://www.theatlantic.com/politics/archive/2009/07/an-interview-with-thomas-schelling-part-two/21273/
55. Frances Welch, "Moral outlook: earthquake, wind and fire," Sunday Telegraph, Oct. 9, 1995, http://john-adams.co.uk/wp-content/uploads/2010/02/houghton-and-god.pdf
56. Foresight, "International Dimensions of Climate Change," The Government Office for Science, London, 2011
57. Emily Oster, "Witchcraft, Weather and Economic Growth in Renaissance Europe," Journal of Economic Perspectives, vol. 18, no. 1, Winter 2004, pp. 215-228
Chapter 8 Notes (pages 127-144)
1. "WWF Calls on President, Congress for Leadership in Passing Climate and Energy Legislation," World Wildlife Fund, May 12, 2010, http://www.worldwildlife.org/who/media/press/2010/WWFPresitem16252.html
2. "Obama Advisor Carol Browner Addresses Green Mountain College Class of 2010," PRNewswire, May 15, 2010, http://www.prnewswire.com/news-releases/obama-advisor-carol-browner-addresses-green-mountain-college-class-of-2010-93852479.html
3. Ron Bailey, presentation at the Foundation for the Future, Reason Magazine, August 12, 2001, http://reason.com/archives/2001/08/12/state-of-the-world/singlepage
4. Donald Brown, "A New Kind of Crime Against Humanity?: The Fossil Fuel Industry's Disinformation Campaign On Climate Change," Oct. 24, 2010, http://rockblogs.psu.edu/climate/2010/10/a-new-kind-of-vicious-crime-against-humanity-the-fossil-fuel-industrys-disinformation-campaign-on-cl.html
5. Photo by Alan Murray-Rust under Creative Commons License
6. US Environmental Protection Agency, 2011, http://www.epa.gov/air/airpollutants.html
7. Ibid, "2011 Statistical Abstract," US Census Bureau, 2011, http://www.census.gov/compendia/statab/
8. Michael Schirber, "The Chemistry of Life: The Human Body," Live Science, Apr. 16, 2009, http://www.livescience.com/3505-chemistry-life-human-body.html
9.http://www.co2isgreen.org/default.aspx/MenuItemID/137/MenuGroup/Home.htm
10.http://www.co2science.org/education/experiments/center_exp/experiment1/exp1_home.php
11. Arthur Robinson et al., "Environmental Effects of Increased Atmospheric Carbon Dioxide," Journal of American Physicians and Surgeons, v. 12, pp. 79-90, 2007
12. Bread photo by David Monniaux under GFDL
13. William Happer, "The Truth About Greenhouse Gases," First Things, June/July 2011, http://www.firstthings.com/article/2011/05/the-truth-about-greenhouse-gases
14. Joanne Nova, radio interview with Mark Gillar, April 15, 2010, http://www.blogtalkradio.com/markgillar/2010/04/15/joann-nova-discusses-global-warming
15. "Full text: Blair's climate change speech," Guardian, Sep. 15, 2004, http://www.guardian.co.uk/politics/2004/sep/15/greenpolitics.uk
16. Edward Malbach, "The Health Community Should Reframe Climate Change as a Human Health Issue," Cornerstone, George Mason University, May 9, 2011, http://cornerstone.gmu.edu/articles/2927
17. Thomas Karl et al., "Global Climate Change Impacts in the United States," 2009, http://www.globalchange.gov/what-we-do/assessment/previous-assessments/global-climate-change-impacts-in-the-us-2009
18. Photograph by Norman Rogers, 2010
19. W. R. Keating et al., "Heat Related Mortality in Warm and Cold Regions of Europe: Observational Study," British Medical Journal, v. 321, Sep. 16, 2000, pp. 670-673
20. Matthew Falagas et al., "Seasonality of Mortality: The September Phenomenon in Mediterranean Countries," Canadian Medical Association Journal, Oct. 13, 2009
21. Ibid
22. Bjorn Lomborg, "Global Warming Will Save Millions of Lives," Telegraph, Mar. 13, 2009, http://www.telegraph.co.uk/comment/personal-view/4981028/Global-warming-will-save-millions-of-lives.html
23. "Global Warming Link to Kidney Stones," The Times of India, May 15, 2008
24. Karl (See no. 17)
25. Karl (See no. 17)
26. Andrew Restuccia, "House Dem: Climate Change Bigger Health Threat Than AIDS, Malaria," The Hill, Apr. 6, 2011, http://thehill.com/blogs/e2-wire/e2-wire/154251-house-dem-climate-change-bigger-health-threat-than-aids-malaria
27. "Flesh-Eating Disease Is On The Rise Due To Global Warming, Experts Warn," ScienceDaily, Aug. 16, 2007, http://www.sciencedaily.com/releases/2007/08/070815152912.htm; Hot earth image by Jack1 under GFDL
28. Karl (See no. 17)
29. Paul Reiter, "Kyoto Protocol is irrelevant to the spread of disease says expert," International Policy Network, Dec. 11, 2010, http://www.policynetwork.net/es/environment/media/kyoto-protocol-irrelevant-spread-disease-says-expert
30. Letter to President Obama and the Congress, Sep. 28, 2010, http://www.usclimatenetwork.org/resource-database/ph-groups-sign-on-climate-change-9.28.10
31. Eryka Bergey, "The Philadelphia Zoo unveils new exhibit made entriely of LEGO blocks," Examiner.com, August 11, 2010, http://www.examiner.com/life-photos-in-philadelphia/the-philadelphia-zoo-unveils-new-exhibit-made-entirely-of-lego-blocks
32. Mitch Taylor, presentation at the International Conference on Climate Change, Mar. 10, 2009
33. Clifford Kraus, "Bear Hunting Caught in Global Warming Debate," The New York Times, May 27, 2006, http://www.nytimes.com/2006/05/27/world/americas/27bears.html?pagewanted=all
34. Comedy image by Booyabazook under GFDL
35. "Will Polar Bears Survive?" IUCN Polar Bear Specialist Group, July 6, 2009, http://www.polarbearsinternational.org/polar-bears/will-polar-bears-survive
36. "Cancun climate change summit: climate change killing polar bears," Telegraph, Dec. 9, 2010, http://www.telegraph.co.uk/earth/environment/climatechange/8190922/Cancun-climate-change-summit-climate-change-killing-polar-bears.html
37. Ian Sterling et al., "Polar Bear Population Status in the Northern Beaufort Sea," USGS Administrative Report, 2007
38. Kirk Meyers, "Canada's growing polar bear population 'becoming a problem,' locals say," Examiner.com, January 8, 2010, http://www.examiner.com/seminole-county-environmental-news-in-orlando/canada-s-growing-polar-bear-population-becoming-a-problem-locals-say
39. Joseph Abrams, "Out With a Shiver: Global Warming Protest Frozen Out by Massive Snowfall," Fox News, Mar. 2, 2009, http://www.foxnews.com/politics/2009/03/02/shiver-global-warming-protest-frozen-massive-snowfall/
40. Meyers (See no. 38)
41. "WWF and The Coca-Cola Company Team Up to Protect Polar Bears," World Wildlife Foundation, http://www.worldwildlife.org/what/partners/wwfandcoke.html
42. "Acid Test: The Global Challange of Ocean Acidification," NRDC Documentary, Sep. 17, 2009, http://www.youtube.com/watch?v=5cqCvcX7buo
43. Gretchen Hofmann et al., "High-Frequency Dynamics of Ocean pH: A Multi-Ecosystem Comparison," PLoS ONE, Dec. 2011, v. 6, Iss. 12, http://www.plosone.org/article/info%3Adoi%2F10.1371%2Fjournal.pone.0028983
44. "Ocean acidification due to increasing atmospheric carbon dioxide," The Royal Society, June 2005, www.royalsoc.ac.uk
45. James Hansen, "Global Warming Twenty Years Later: Tipping Points Near," address to the National Press Club, June 23, 2008, http://www.columbia.edu/~jeh1/2008/TwentyYearsLater_20080623.pdf
46. Glenn Dea'th et al., "Declining Coral Calcification on the Great Barrier Reef," Science, v. 2, Jan. 2, 2009, pp. 116-119
47. CO2, Global Warming and Coral Reefs: Prospects for the Future by Craig Idso, (Center for the Study of Carbon Dioxide and Global Change and the Science and Public Policy Institute, 2009)
48. Stephen McIntyre, "'Unprecedented' in the past 153 years," June 3, 2009, http://www.climateaudit.org/?p=6189
49. Byrne et al., "Direct observation of basin-wide acidification of the North Pacific Ocean," Geophysical Research Letters, Jan. 20, 2010, v. 37, L02601
50. Hofmann (See no. 43)
51. Photographs by Bob Halsted
52. Peter Doran and Maggie Zimmerman, "Examining the Scientific Consensus on Climate Change," EOS Transactions, v. 90, no. 3, Jan. 20, 2009, pp. 21-22
53. Naomi Oreskes, "The Scientific Consensus on Climate Change," Science, v. 306, Dec. 3, 2004, p. 1686
54. Brian Montopoli, "Scott Pelley and Catherine Herrick on Global Warming Coverage," CBS News, March 23, 2006, http://www.cbsnews.com/8301-500486_162-1431768-500486.html
55. "The Heidelberg Appeal," American Policy Center, http://www.americanpolicy.org/2002/03/29/the-heidelberg-appeal/
56. "The Leipzig Declaration," American Policy Center, http://www.americanpolicy.org/2002/03/29/the-leipzig-declaration/
57. "The Climate Scientists Register," International Climate Science Coalition, http://www.climatescienceinternational.org/index.php?option=com_content&view=article&id=289&Itemid=17
58. "Global Warming Petition Project," Oregon Institute of Science and Medicine, http://www.petitionproject.org/
59. Brainy Quote, http://www.brainyquote.com/quotes/authors/v/vladimir_lenin.html
60. Nicholas Ballasy, "US Education Secretary Vows to Make American Children 'Good Environmental Citizens,'" CNS News, Sep. 23, 2010, http://cnsnews.com/node/75711
61. Penny Starr, "US Education Dep't Pushes Man-Made Global Warming, Saving the Earth at Children's Reading Event," CNS News, Aug. 2, 2011, http://cnsnews.com/news/article/us-education-dep-t-pushes-man-made-global-warming-saving-earth-children-s-reading-event
62. "MSU partners bring climate change curricula to high schools," Mississippi State University press release, Feb. 1, 2011, http://www.msstate.edu/web/media/detail.php?id=5134
63. "Climate Kids: NASA's Eyes on the Earth," National Aeronautic and Space Administration, http://climate.nasa.gov/kids/
64. A Hot Planet Needs Cool Kids: Understanding Climate Change and What You Can Do About It by Julie Hall (Green Goat Books, 2007)
65. "Act on CO2," YouTube, http://www.youtube.com/results?search_query=act+on+co2&oq=act+on+co2&aq=f&aqi=g3&aql=&gs_sm=e&gs_upl=2137l4803l0l5077l10l7l0l1l1l0l216l779l1.2.2l5l0
66. Anthony Watts, "TV network Tells Kids How Long Their Carbon Footprint Should Allow them to Live," WattsUpWithThat, May 31, 2008, http://wattsupwiththat.com/2008/05/31/tv-network-tells-kids-when-their-carbon-footprint-says-they-should-die/
67. Act on CO2 (See no. 65)
Chapter 9 Notes (pages 145-170)
1. Henry Lamb, "Kyoto Report," Eco-Logic, Nov/Dec, 1997, http://sovereignty.net/p/clim/kyotorpt.htm
2. Rachel Waters, "Global Warming Movie Makes the Media Hot for Al Gore All Over Again," Business and Media Institute, Aug. 16, 2006, http://www.mrc.org/bmi/reports/2006/Summer_Rerun.html
3. Michael Hawthorne, "Blunt answers about the risks of global warming," Chicago Tribune, Aug. 3, 2008, http://articles.chicagotribune.com/2008-08-03/news/0808020393_1_global-warming-climate-change-rajendra-pachauri
4. Barack Obama, Message for the Global Climate Summit, November 17, 2008
5. Robin Bravender, "EPA Chief Goes Toe-To-Toe with Senate GOP Over Climate Science," The New York Times, Feb. 23, 2010, http://www.nytimes.com/gwire/2010/02/23/23greenwire-epa-chief-goes-toe-to-toe-with-senate-gop-over-72892.html
6. The Quotable Einstein by Alice Calaprice (Princeton University Press, 1996)
7. James Lewis, "Is there an average global temperature," American Thinker, Mar. 18, 2007, http://www.americanthinker.com/2007/03/is_there_an_average_global_tem_1.html
8. Joseph D'Aleo and Anthony Watts, "Surface Temperature Records: Policy Driven Deception," Science & Public Policy Institute, Aug. 27, 2010, http://scienceandpublicpolicy.org/originals/policy_driven_deception.html
9. Climate Reference Network (CRN) Site Information Handbook, National Oceanic and Atmospheric Administration, Dec. 2002, http://www1.ncdc.noaa.gov/pub/data/uscrn/documentation/program/X030FullDocumentD0.pdf
10. Anthony Watts, "Is the US Surface Temperature Record Reliable," SurfaceStations.org, http://wattsupwiththat.files.wordpress.com/2009/05/surfacestationsreport_spring09.pdf
11. Ibid
12. US State Climate Extremes Committee, National Oceanic and Atmospheric Administration, 2011, http://www.ncdc.noaa.gov/extremes/scec/searchrecs.php
13. "Climate Change: Improvements Need to Clarify National Priorities and Better Align Them with Federal Funding Decisions," Government Accountability Office, May 2011, http://www.gao.gov/new.items/d11317.pdf
14. NOAA (See no. 12)
15. C. Williams, et al., "United States Historical Climatology Network Monthly Temperature and Precipitation Data," NOAA, May 2008, http://www.sustainableoregon.com/webpages/ndp019.html
16. Ibid
17. Ken Stewart, "The Australian Temperature Record—The Big Picture," July 27, 2010, http://wattsupwiththat.com/2010/07/27/the-australian-temperature-record-the-big-picture/
18. Bryan Leyland, New Zealand Climate Science Coalition, 2010, http://nzclimatescience.net/images/PDFs/app3.graph.pdf
19. "New Zealand—Unaffected by Global Warming," New Zealand Climate Science Coalition, July, 2010, http://nzclimatescience.net/index.php?option=com_content&task=view&id=769&Itemid=32
20. Muir Russell, "The Independent Climate Change Emails Review," July, 2010, http://www.cce-review.org/pdf/FINAL%20REPORT.pdf
21. Richard Treadgold, "Are We Feeling Warmer Yet," New Zealand Climate Science Coalition, Nov. 25, 2009, http://www.climateconversation.wordshine.co.nz/docs/awfw/are-we-feeling-warmer-yet.htm
22. "NIWA sued over data accuracy," Stuff.co.nz, Aug., 15, 2010, http://www.stuff.co.nz/national/4026330/Niwa-sued-over-data-accuracy
23. John O'Sullivan, "Legal Defeat For Climatologists In Kiwigate Scandal," Canada Free Press, Oct. 8, 2010, http://www.canadafreepress.com/index.php/article/28527
24. Andrei Illarionov, "New Study: Hadley Center and CRU Apparently Cherry-picked Russia's Climate Data," Cato Institute, Dec. 17, 2009, http://www.cato-at-liberty.org/new-study-hadley-center-and-cru-apparently-cherry-picked-russias-climate-data/
25. Ibid
26. D' Aleo (See no.8)
27. Intergovernmental Panel on Climate Change, http://www.ipcc.ch/organization/organization.shtml
28. Ibid
29. Stephen Schneider, "Don't Bet All Environmental Changes Will Be Beneficial," APS Online, Aug./Sep. 1996, http://www.aps.org/publications/apsnews/199608/environmental.cfm
30. IPCC (See no. 27)
31. Rick Piltz, "House votes 244-179 to kill US funding of IPCC," ClimateScienceWatch, Feb. 19, 2011, http://www.climatesciencewatch.org/2011/02/19/house-votes-244-179-to-kill-u-s-funding-of-ipcc/
32. John Zillman, "The IPCC: A View from the Inside," http://www.apec.org.au/docs/zillman.pdf
33. Paul Georgia, "IPCC report criticized by one of its lead authors," The Heartland Institute, June 1, 2001, http://news.heartland.org/newspaper-article/2001/06/01/ipcc-report-criticized-one-its-lead-authors
34. S. Fred Singer, "Good bye, Kyoto," American Thinker, March 13, 2011, http://www.americanthinker.com/2011/03/good_bye_kyoto.html
35. Nikhil Lakshman, "The science is absolutely first rate," Rediff.com India News, June 5, 2007, http://www.rediff.com/news/2007/jun/05inter.htm
36. Intergovernmental Panel on Climate Change, Fourth Assessment Report, Working Group II, Chapter 10, (2007), p. 493
37. Gordon Brown presentation at the Major Economies Forum in London, Oct. 2009, http://climatequotes.com/2010/01/27/gordon-brown-claimed-glaciers-could-disappear-entirely-in-25-years/
38. Pallava Bagla, "Himalaya glacier deadline 'wrong,'" BBC News, Dec. 5, 2009, http://news.bbc.co.uk/2/hi/8387737.stm
39. David Rose, "Glacier scientist: I knew data hadn't been verified," Daily Mail, Jan. 24, 2010, http://www.dailymail.co.uk/news/article-1245636/Glacier-scientists-says-knew-data-verified.html
40. Ibid
41. Intergovernmental Panel on Climate Change, Fourth Assessment Report, Working Group II, Chapter 13, (2007), p. 596
42. Christopher Booker, "Amazongate: At last we reach the source," Telegraph, Jul. 10, 2010, http://www.telegraph.co.uk/comment/columnists/christopherbooker/7883372/Amazongate-At-last-we-reach-the-source.html
43. Intergovernmental Panel on Climate Change, Fourth Assessment Report, Synthesis Report, (2007), p. 50
44. "And now for Africagate," EU Referendum, Feb. 7, 2010, http://eureferendum.blogspot.com/2010/02/and-now-for-africagate.html
45. Donna Laframboise, "UN's Climate Bible Gets 21 'F's on Report Card," http://www.noconsensus.org/ipcc-audit/findings-main-page.php
46. Anthony Watts, "The UN 'disappears' 50 million climate refugees, then botches the disappearing attempt," WattsUpWithThat, Apr. 15, 2011, http://wattsupwiththat.com/2011/04/15/the-un-disappears-50-million-climate-refugees-then-botches-the-disappearing-attempt/
47. Roy Spencer, "Climategate 2.0: Bias in Scientific Research," Nov. 23, 2011, http://www.drroyspencer.com/
48. E-mail from Phil Jones to Raymond Bradley, Malcolm Hughes, and Michael Mann, Feb. 21, 2005, "The Climategate Emails," Lavoisier Group, March 2010, http://www.lavoisier.com.au/articles/greenhouse-science/climate-change/climategate-emails.pdf
49. E-mail from Michael Mann to Raymond Bradley, Keith Briffa, Tom Crowley, Phil Jones, Michael Mann, Michael Oppenheimer, Jonathan Overpeck, Kevin Trenbreth, and Tom Wigley, June 4, 2003, Lavoisier Group (See no. 48)
50. E-mail from Chris Folland to Keith Briffa, Phil Jones, and Michael Mann, Sep. 22, 1999, Lavoisier Group (See no. 48)
51. E-mail from Keith Briffa to Chris Folland, Phil Jones, and Michael Mann, Sep. 22, 1999, Lavoisier Group (See no. 48)
52. E-mail from Chris Folland to Keith Briffa, Phil Jones, and Michael Mann, Sep. 22, 1999, Lavoisier Group (See no. 48)
53. E-mail from Michael Mann to Keith Briffa, Chris Folland, and Phil Jones, Sep. 22, 1999, Lavoisier Group (See no. 48)
54. E-mail from Phil Jones to Raymond Bradley, Keith Briffa, Malcolm Hughes, Michael Mann, and Tim Osborn, Nov. 16, 1999, Lavoisier Group (See no. 48)
55. E-mail from Tim Osborn to Thomas Kleinen, Dec. 20, 2006, http://www.ecowho.com/foia.php
56. Intergovernmental Panel on Climate Change, Third Assessment Report, Working Group I, Chapter 2, (2001), p. 134
57. Stephen McIntyre, "IPCC and the 'Trick,'" Climate Audit, Dec. 10, 2009, http://climateaudit.org/2009/12/10/ipcc-and-the-trick/
58. Al Revere, "An interview with accidental movie star Al Gore," Grist, May 9, 2006, http://www.grist.org/article/roberts2
59. "CRU Data Availability," Climate Research Unit, http://www.cru.uea.ac.uk/cru/data/availability/, Dog with bone image by Shane Adams under Creative Commons Attribution Generic License
60. Science and Technology Committee Announcement, UK Parliament, Dec. 7, 2009, http://www.parliament.uk/business/committees/committees-archive/science-technology/s-t-pn04-091207/
61. "The disclosure of climate data from the Climatic Research Unit at the University of East Anglia," House of Commons Science and Technology Committee, Mar. 24, 2010, http://www.publications.parliament.uk/pa/cm200910/cmselect/cmsctech/387/387i.pdf
62. E-mail from Phil Jones to Michael Mann, July 8, 2004, Lavoisier Group (See no. 48)
63. House of Commons (See no. 61)
64. "CRU Scientific Assessment Panel Announced," University of East Anglia, Mar. 22, 2010, http://www.uea.ac.uk/mac/comm/media/press/CRUstatements/SAPannounce
65. "Report of the International Panel set up by the University of East Anglia to examine the research of the Climatic Research Unit," Apr. 12, 2010, http://www.uea.ac.uk/mac/comm/media/press/CRUstatements/SAP
66. Steve McIntyre, "Oxburgh and the Jones Admission," Climate Audit, July 1, 2010, http://climateaudit.org/2010/07/01/oxburgh-and-the-jones-admission/
67. E-mail from Phil Jones to Michael Mann, May 29, 2008, Lavoisier Group (See no. 48)
68. Ross McKitrick, "Understanding the Climategate Inquiries," Sep. 2010, http://www.rossmckitrickcomuploads /4/8/0/8/4808045/rmck_climategate.pdf
69. Ibid
70. Ibid
71. Ibid
72. E-mail from Tom Wigley to Phil Jones, Sep. 28, 2008, Lavoisier Group (See no. 48)
73. Muir Russell et al., "The Independent Climate Change Emails Review," July, 2010, www.cce-review.org/pdf/FINAL%20REPORT.pdf
74. Ibid
75. McKitrick (See no. 68)
76. McKitrick (See no. 68)
77. Context statement in second release of Climategate e-mails, Nov. 22, 2011, http://www.ecowho.com/foia.php
78. E-mail from Michael Mann to Phil Jones, Aug. 3, 2004, http://www.ecowho.com/foia.php
79. E-mail from Michael Mann to Phil Jones, May 30, 2008, http://www.ecowho.com/foia.php
80. E-mail from Phil Jones to Thomas Stocker, May 12, 2009, http://www.ecowho.com/foia.php
81. David Rose, "BBC Sought Advice from Global Warming Scientists on Economy, Drama, Music…and Even Game Shows," Daily Mail, Nov. 27, 2011, http://www.dailymail.co.uk/news/article-2066706/BBC-sought-advice-global-warming-scientists-economy-drama-music–game-shows.html
82. John Holdren, testimony before the US House Select Committee on Energy Independence and Global Warming, Dec. 2, 2009, http://pjmedia.com/blog/climategate-obamas-science-adviser-confirms-the-scandal-%E2%80%94-unintentionally/
83. E-mail from Mike Hulme to Simon Turok, Feb. 25, 2002, http://www.ecowho.com/foia.php
84. Peter Sissons, "Peter Sissons: I drove out of Television Centre for the final time last month…and I don't have a pang of regret," Daily Mail, July 15, 2009, http://www.dailymail.co.uk/news/article-1199006/PETER-SISSONS-I-drove-Television-Centre-final-time-month–I-dont-pang-regret.html
85. "Securing a Clean Energy Future, the Australian Government's Climate Change Plan," 2001, http://www.cleanenergyfuture.gov.au/clean-energy-future/securing-a-clean-energy-future/
86. "Climate Change Scoping Plan," The California Air Resources Board for the State of California, December, 2008, http://arb.ca.gov/cc/scopingplan/document/scopingplandocument.htm
87. "The UK Low Carbon Transition Plan," Jul. 15, 2009, http://www.decc.gov.uk/publications/basket.aspx?FilePath=White+Papers%2fUK+Low+Carbon+Transition+Plan+WP09%2f1_20090724153238_e_%40%40_lowcarbontransitionplan.pdf&filetype=4#basket
88. "Climate Change Plan for Canada," 2003, http://publications.gc.ca/site/eng/249152/publication.html
89. "National Climate Change Program," China National Development and Reform Commission, June 4, 2007, http://www.china.org.cn/english/environment/213624.htm
90. "Climate Change Indicators in the United States," Environmental Protection Agency, 2010, http://www.epa.gov/climatechange/indicators.html
91. Rod McGuirk, "Study says global warming shrinks birds," The Christian Science Monitor, Aug. 21, 2009, http://www.csmonitor.com/Environment/Global-Warming/2009/0821/study-says-global-warming-shrinks-birds
92. "Bigger birds in Central California, courtesy of global climate change," SF State News, Oct. 31, 2011, http://www.sfsu.edu/~news/2011/fall/31.html

Chapter 10 Notes  (pages 171-182)
1. "Eisenhower's Farewell Address to the Nation," Jan. 17, 1961, http://mcadams.posc.mu.edu/ike.htm
2. Monika Kopacz, letter to The New York Times, Apr. 12, 2009, http://www.nytimes.com/2009/04/12/magazine/12letters-t-THECIVILHERE_LETTERS.html
3. "Advice to the New Administration and Congress: Actions to make our nation resilient to severe weather and climate change," University Corporation for Atmospheric Research and other organizations, http://www.ucar.edu/td/
4. "Climate Change: Improvements Needed to Clarify National Priorities and Better Align Them with Federal Funding Decisions," US Government Accountability Office, May 2011, http://www.gao.gov/products/GAO-11-317
5. Ibid
6. Ibid
7. "UI gets grant to study climate change," The Lewiston Morning Tribune, Feb. 19, 2011, http://smart-grid.tmcnet.com/news/2011/02/19/5324934.htm
8. Advice (See no. 3)
9. Simon Lewis, "The Met Office's £33 million supercomputer that keeps Britain – and the world – turning…Now try complaining about the forecast," Daily Mail, Feb. 17, 2010, http://www.dailymail.co.uk/home/moslive/article-1249957/The-Met-Offices-33-million-supercomputer-keeps-Britain–world–turning–Now-try-complaining-forecast.html
10. "Granthams to fund Institute for Climate change at Imperial College London," Imperial College London News Release, Feb. 26, 2007, http://www3.imperial.ac.uk/newsandeventspggrp/imperialcollege/newssummary/news_26-2-2007-11-56-9
11. Nicola Jones, "Freak weather could have been predicted," Nature, Dec. 30, 2010, http://www.nature.com/news/2010/101230/full/news.2010.685.html
12. "Purdue wins $5M global warming crop-research grant," Associated Press, Jun. 29, 2011, http://www.ibj.com/article/print?articleId=28010
13. Steven Lawrence, "Climate Change: The US Foundation Response," The Foundation Center, Feb. 2010, http://foundationcenter.org/gainknowledge/research/pdf/researchadvisory_climate.pdf
14. Darren Samuelsohn "Green donors taking time to soul search," Politico, May 31, 2011, http://www.politico.com/news/stories/0511/55980.html
15. Joe Romm, "Dirty Money: Big Oil and corporate polluters spent over $500 million to kill climate bill, push offshore drilling," Climate Progress, Sep. 27, 2010, http://thinkprogress.org/romm/2010/09/27/206784/dirty-money-oil-companies-special-interest-polluters-spend-millions-to-kill-climate-bil/
16. Steven Lawrence (See no. 13)
17. "Solyndra files for bankruptcy, looks for buyer," Business Week, Sep. 6, 2011, http://www.businessweek.com/ap/financialnews/D9PJ89JG0.htm; Burning wind turbine photograph by Polizei Stade
18. Climatism! Science, Common Sense, and the 21st Century's Hottest Topic by Steve Goreham (New Lenox Books, 2010), pp. 275-285
19. US Department of Energy: Loan Programs Office, https://lpo.energy.gov/?page_id=45
20. James Kanter, "Banks Urging US to Adopt the Trading of Emissions," The New York Times, Sep. 26, 2007, http://www.nytimes.com/2007/09/26/business/26bank.html
21. John Roberts, "Science for Sale," Chemical and Engineering News, Mar. 24, 2008, http://pubs.acs.org/cen/books/86/8612books.html
22. "Commitments Totaling $6.2 Billion Announced on Day One of Clinton Global Initiative," Philanthropy News Digest, Sep. 22, 2011, http://foundationcenter.org/pnd/news/story.jhtml?id=354400023
23. Anita Pugliese and Julie Ray, "Fewer Americans, Europeans View Global Warming as a Threat, Gallup, Apr. 20, 2011, http://www.gallup.com/poll/147203/fewer-americans-europeans-view-global-warming-threat.aspx
24. "Climate change deniers," David Suzuki Foundation, http://www.davidsuzuki.org/issues/climate-change/science/climate-change-basics/climate-change-deniers/
25. William Reilly, "Analysis: UN calls climate debate 'over,'" UPI, May 10, 2007, http://www.ecoearth.info/shared/reader/welcome.aspx?linkid=74756&keybold=natural%20AND%20%20resource%20AND%20%20over-use
26. Eoin O'Carroll, "Are Climate-Change Deniers Guilty of Treason?," Christian Science Monitor, July 10, 2009, http://www.alternet.org/environment/141204/are_climate-change_deniers_guilty_of_treason/?page=entire; Executioner photo by Andrew Butko under GFDL
27. David Roberts, "An excerpt from a new book by George Monbiot," Grist, Sep. 19, 2006, http://www.grist.org/article/the-denial-industry
28. Sharon Begley, "The Truth About Denial," Newsweek, Aug. 12, 2007, http://www.thedailybeast.com/newsweek/2007/08/13/the-truth-about-denial.html
29. Gene Ananth, "Will the real ClimateGate please stand up? (Part 2)," Greenpeace, Apr. 1, 2010, http://www.greenpeace.org/international/en/news/Blogs/climate/will-the-real-climategate-please-stand-up-par/blog/9245/;Executioner photo by Andrew Butko under GFDL
30. Data from annual reports or websites of Nature Conservancy, World Wildlife Fund, Environmental Defense Fund, National Resources Defense Council, Sierra Club, Heritage Foundation, American Enterprise Institute, Cato Institute, and Heartland Institute, 2010
31. Anthony Watts, "The great big map of FUD," WattsUpWithThat, Oct. 6, 2011, http://wattsupwiththat.com/2011/10/06/the-great-big-map-of-fud/
32. "Gore decries 'global warming' in bitterly cold NYC," WND, Jan. 15, 2004, http://www.wnd.com/2004/01/22790/
33. Senator James Inhofe, speech to the US Senate, July 28, 2003, http://inhofe.senate.gov/pressreleases/climate.htm
34. Bill Gray, "On the Hijacking of the American Meteorological Society," WattsUpWithThat, Jun. 16, 2011, http://wattsupwiththat.com/2011/06/16/on-the-hijacking-of-the-american-meteorological-society-ams/
35. Steve Zwick, "A Tennessee Fireman's Solution to Climate Change," Forbes, Apr. 19, 2012, http://www.forbes.com/sites/stevezwick/2012/04/19/a-tennessee-firemans-solution-to-climate-change/
36. Maibach, E., et al., "A National Survey of Television Meteorologists about Climate Change: Preliminary Findings," George Mason University, Center for Climate Change Communication, 2010, http://www.climateaccess.org/category/organization/george-mason-university-center-climate-change-communication
37. "Open Letter to the Council of the American Physical Society," Climate Physics, Sep. 19, 2009, http://climatephysics.org/open-letter-to-the-council-of-the-american-physical-society/
38. Tom Nordlie, "University of Florida-led teams awarded $6.9 million for climate change projects," University of Florida News, June 30, 2011, http://news.ufl.edu/2011/06/30/climate-change-grants/
39. Hal Lewis resignation letter from the American Physical Society, Oct. 6, 2010, http://wattsupwiththat.com/2010/10/16/hal-lewis-my-resignation-from-the-american-physical-society/
40. Lubos Motl, "Nobel Prize Winner Ivar Giaever Resigns Form American Physical Society Over Global Warming Alarmism," Global Warming Policy Foundation, Sep. 14, 2011, http://thegwpf.org/science-news/3870-nobel-prize-winner-ivar-giaever-resigns-from-aps-over-global-warming-alarmism.html
41. Brainy Quote, http://www.brainyquote.com/quotes/authors/u/upton_sinclair.html
Chapter 11 Notes (pages 183-226)
1. "Dirty Harry," IMDb, 1971, http://www.imdb.com/title/tt0066999/
2. "Key Energy World Statistics," International Energy Agency, 2011, http://www.iea.org/textbase/nppdf/free/2011/key_world_energy_stats.pdf
3. The Skeptical Environmentalist: Measuring the Real State of the World by Bjorn Lomborg (Cambridge University Press, 2001), p. 122
4. "Automobile Industry Introduction," Plunkett Research, Ltd., 2011, http://www.plunkettresearch.com/automobiles-trucks-market-research/industry-overview
5. Key Energy Statistics (See no. 2)
6. Key Energy Statistics (See no. 2)
7. "Chemical Potential Energy," The Physics Hypertextbook, 2011, http://physics.info/energy-chemical/
8. Ibid
9. "The Plowboy Interview with Amory Lovins," Mother Earth News, Nov.-Dec. 1977, http://www.motherearthnews.com/Renewable-Energy/1977-11-01/Amory-Lovins.aspx?page=14
10. Earth in Balance: Ecology and the Human Spirit by Al Gore (Houghton Mifflin, 1992), p. 243
11. Donella Meadows et al., "The Limits to Growth: A Report to the Club of Rome," 1972, http://clubofrome.at/archive/limits.html
12. International Conference on the Future of Energy and the Interconnected Challenges of the 21st Century, The Club of Rome, October, 2011, http://www.clubofrome.org/?p=3086
13. Rays of Hope: The Transition to a Post-Petroleum World by Denis Hayes, (Norton, 1977), p. 155
14. Denis Hayes, "Sunpower," Patagonia, Winter 2005, http://www.patagonia.com/us/patagonia.go?assetid=2069
15. "Sen. Charles Schumer touts tax incentives for manure energy," Associated Press, Aug. 12, 2011, http://www.syracuse.com/news/index.ssf/2011/08/sen_charles_schumer_touts_tax.html; Hamster image by Doenertier82 under Creative Commons License
16. Sam Shrank and Farhad Farahmand, "Biofuels Regain Momentum," Worldwatch Institute, Aug. 29, 2011, http://vitalsigns.worldwatch.org/vs-trend/biofuels-regain-momentum
17. Climatism! Science, Common Sense, and the 21st Century's Hottest Topic by Steve Goreham, (New Lenox Books, 2010), p. 332
18. 160,000 derived from IEA Wind 2010 Annual Report, International Energy Agency, July 2011, http://www.ieawind.org/
19. Alexander Neubacher, "Solar Subsidy Sinkhole: Re-Evaluating Germany's Blind Faith in the Sun," Spiegel On Line, Jan. 18, 2012, http://www.spiegel.de/international/germany/0,1518,809439,00.html
20. "Integrated Energy Report," California Energy Commission, Nov. 2005, http://www.energy.ca.gov/2005publications/CEC-100-2005-007/CEC-100-2005-007-CMF.PDF
21. Rory Cooper, "Energy Secretary Chu Embraces High Gas Prices, Again," Heritage Foundation, Mar. 21, 2011, http://blog.heritage.org/2011/03/21/energy-secretary-chu-embraces-high-gas-prices-again/
22. Walter Mossberg, "Solar Power Seen Meeting 20% of Needs by 2000; Carter May Seek Outlay Boost," The Wall Street Journal, Aug. 22, 1978; Crystal ball image by Eva Kröcher under GFDL
23. The Solar Fraud: Why Solar Energy Won't Run the World by Howard Hayden (Vales Lake, 2005), p.48
24. Ibid, p. 49
25. "International Energy Outlook 2011," Energy Information Agency, Sep. 2011, http://www.eia.gov/forecasts/ieo/index.cfm
26. Estimated from data in Key Energy Statistics (See no. 2)
27. Key Energy Statistics (See no. 2)
28. Key Energy Statistics (See no. 2)
29. Calculated from Key Energy Statistics reports in 2008 and 2011, International Energy Agency, http://www.iea.org/
30. Key Energy Statistics (See no. 2)
31. Key Energy Statistics (See no. 2)
32. "Monthly Energy Review December 2011," Energy Information Agency, http://www.eia.gov/totalenergy/reports.cfm; Power Hungry: The Myths of Green Energy and the Real Fuels of the Future by Robert Bryce (Public Affairs, 2010)
33. Ibid
34. Ralph Nader, 2002 presentation at Western Washington University, http://westernfrontonline.net/news/2075-nader-warns-of-everyday-corporate-control
35. "How Solar Energy Works," Union of Concerned Scientists, http://www.ucsusa.org/clean_energy/technology_and_impacts/energy_technologies/how-solar-energy-works.html
36. Blue Planet in Green Shackles by Václav Klaus, (Competitive Enterprise Institute, 2008), p. 86
37. Nora Méray, "Wind and Gas: Back-up or Back-Out, That is the Question," Clingendael International Energy Programme, Dec. 2011, http://www.europeanenergyreview.eu/site/pagina.php?id=3460
38. Burning wind turbine photograph by Polizei Stade
39. "Design report of flue gas and steam integration of power plant and capture plant including interface list," Kingsnorth Carbon Capture and Storage Project, E.ON, 2007
40. David Adam and Mark Tran, "Kingsnorth power station plans shelved by E.ON," Guardian, Oct. 7, 2009, http://www.guardian.co.uk/environment/2009/oct/07/eon-cancels-kingsnorth-power-station
41. James Hylko, "Plant Vogtle Leads the Next Nuclear Generation," Power Magazine, Nov. 1, 2009, http://www.powermag.com/nuclear/Plant-Vogtle-Leads-the-Next-Nuclear-Generation_2247.html
42. "FPL's West County Energy Center," Florida Power and Light, http://www.fpl.com/environment/plant/west_county.shtml
43. Concentrating solar energy photo by US Bureau of Land Management
44. "Andasol Solar Power Station, Spain," Power-Technology.com, http://www.power-technology.com/projects/andasolsolarpower/; "Andasol-1," National Renewable Energy Laboratory, http://www.nrel.gov/csp/solarpaces/project_detail.cfm/projectID=3
45. Photo of Kingsnorth plant by David Bowen, 2007, under Creative Commons License; Photo of Andosol-1 plant by BSMPS under Creative Commons License; Photo of Vogtle power plant by the Nuclear Regulatory Commission; Photo of offshore wind farm by London Array, http://www.londonarray.com/; Photo of West County Energy Center from Doug Murray, Florida Power and Light
46. London Array, http://www.londonarray.com/
47. "Atlanta Population and Atlanta Demographics, http://www.atlanta.net/visitors/population.html; "Athens," Greek Hotels, http://www.greekhotels.org/greek_islands_area_Athens.html
48. "London, general information," Have Travel Fun, http://www.havetravelfun.com/unitedkingdom/london/london-information.htm
49. Wind turbine image by Chrisdesign; Solar panel image by Pirx; Nuclear plant by qubodup
50. "Size of Industrial Wind Turbines," National Wind Watch, Jan. 28, 2013, www.wind-watch.org/faq-size-p.php
51. Wind turbine field in Palm Springs photo by Jeff Turner in 2008 under Creative Commons license
52. IEA Wind 2010 Annual Report, International Energy Agency, July 2011, http://www.ieawind.org/
53. "Winter Consultation 2011/2012," UK National Grid, July 2011, http://www.nationalgrid.com/NR/rdonlyres/C3A81245-D988-48A4-80F2-5082F601E06D/48771/WinterConsultation2011PUBLISHV2.pdf
54. Ibid
55. "School to create own wind power," BBC News, Feb. 29, 2008, http://news.bbc.co.uk/2/hi/uk_news/england/cornwall/7271533.stm; Burning wind turbine photograph by Polizei Stade
56. "Wind brings down turbine," Newquay Voice, Dec. 2, 2009, http://www.newquayvoice.co.uk/news/0/article/2859/
57. UK National Grid (See no. 53)
58. "ERCOT Expects Adequate power Supplies for Summer," ERCOT News Release, May 12, 2010, http://www.ercot.com/news/press_releases/show/329
59. John Sullivan, "Power Supplier Admits Going Green Will Put Lights Out in Britain," Johnosullivan, Mar. 5, 2011, http://johnosullivan.livejournal.com/31784.html
60. Kimball Rasmussen, "A Rational Look at Renewable Energy and the Implications of Intermittent Power," Deseret Power, November, 2010, http://www.hwecoop.com/advice/Rational%20Look%20Renewables%201%202.pdf
61. "Wind Capacity Issues," Western Electricity Coordinating Council working paper, Mar. 17, 2010, http://www.wecc.biz/committees/StandingCommittees/JGC/VGS/PWG/VGCapacity031710/Lists/Minutes/Forms/DispForm.aspx?ID=4
62. "20% Wind Energy by 2030: Wind, Backup power, and Emissions," American Wind Energy Association, http://www.awea.org/learnabout/publications/upload/Backup_Power.pdf
63. "How Less Became More: Wind, Power and Unintended Consequences in the Colorado Energy Market," Bentek Energy, Apr. 16, 2010, http://docs.wind-watch.org/BENTEK-How-Less-Became-More.pdf
64. K. de Groot and C. le Pair, "The hidden fuel costs of wind generated electricity," Windsecret, http://www.clepair.net/windsecret.html
65. "The Economics of Renewable Energy," House of Lords, Nov. 25, 2008, http://www.publications.parliament.uk/pa/ld200708/ldselect/ldeconaf/195/195i.pdf
66. Climatism! (See no. 17), p. 275
67. "Levelized Cost of New Generation Resources in the Annual Energy Outlook 2011," Energy Information Agency, Nov. 2010, http://205.254.135.24/oiaf/aeo/electricity_generation.html
68. Ibid
69. Ibid
70. Personal conversation with Chris Namovitz, Energy Information Agency, Jan. 12, 2012
71. "2010 Wind Technologies Market Report," US Department of Energy, June 2011, http://www1.eere.energy.gov/wind/pdfs/51783.pdf
72. "Levelized Cost of New Electricity Generating Technologies," Institute for Energy Research, May 12, 2009
73. Jake Tapper, "Al Gore's 'Inconvenient Truth'?—A $30,000 Utility Bill," ABC News, Feb. 26, 2007, http://abcnews.go.com/Politics/GlobalWarming/story?id=2906888&page=1
74. Ecoscience: Population, Resources, Environment by Paul Ehrlich et al., (W.H. Freeman, 1970), p. 323
75. Wind Technologies Market Report (See, no. 71)
76. Wind Technologies Market Report (See, no. 71)
77. Andrew Hough "Wind farm revolts blamed for dramatic fall in planning approvals," Telegraph, Oct. 28, 2010, http://www.telegraph.co.uk/earth/energy/windpower/8091934/Wind-farm-revolts-blamed-for-dramatic-fall-in-planning-approvals.html
78. "Ethanol Fuel Incentives Applied in the US," California Energy Commission, Jan. 2004, http://www.energy.ca.gov/reports/2004-02-03_600-04-001.PDF
79. "Bush Delivers Speech on Renewable Fuel Sources," The Washington Post, Apr. 26, 2006, http://www.washingtonpost.com/wp-dyn/content/article/2006/04/25/AR2006042500762.html
80. "Our Energy Future: Creating a Low Carbon Economy," UK Department for Transport and Department for Environment, Food, and Rural Affairs, Feb. 2003, http://www.official-documents.gov.uk/document/cm57/5761/5761.asp
81. "The Way Forward: Strengthening the Transatlantic Partnership," an address by Angela Merkel, Apr. 30, 2007, http://www.acgusa.org/userfiles/%239%20Merkel-Revised.pdf
82. Paul Wescott, "Full Throttle US Ethanol Expansion Faces Challenges Down the Road," US Department of Agriculture, Sep. 2008, http://www.ers.usda.gov/amberwaves/september09/features/ethanolexpansion.htm
83. Directive 2003/30/EC of the European Parliament and of the Council of 8 May 2003 on the promotion of the use of biofuels or other renewable fuels for transport, http://www.bmu.de/english/renewable_energy/doc/print/42460.php
84. "EU Action Against Climate Change: Leading Global Action to 2020 and Beyond," European Commission, 2009, http://ec.europa.eu/clima/publications/docs/post_2012_en.pdf
85. Ronald Steenblik, "Biofuels—At What Cost?," International Institute for Stainable Development, Sep. 2007, http://www. iisd.org/gsi/sites/default/files/oecdbiofuels.pdf
86. Energy Information Agency, US Department of Energy, http://www.eia.gov/
87. Bruno Waterfield, "EU to ban cars from cities by 2050," Telegraph, Mar. 28, 2011, http://www.telegraph.co.uk/motoring/news/8411336/EU-to-ban-cars-from-cities-by-2050.html
88. "Technology Roadmap: Biofuels for Transport," International Energy Agency, 2011, http://www.iea.org/papers/2011/biofuels_roadmap.pdf
89. Tiffany Groode and John Heywood, "Biomass to Ethanol: Potential Production and Environmental Impacts," Mass. Institute of Technology, Feb. 2008, http://web.mit.edu/mitei/lfee/programs/archive/publications/2008-02-rp.pdf
90. "Alligator fat as a new source of biodiesel fuel," Bio Fuel Daily, Oct. 28, 2011, http://www.biofueldaily.com/reports/Alligator_fat_as_a_new_source_of_biodiesel_fuel_999.html; Hamster image by Doenertier82 under Creative Commons License
91. Hosain Shapouri et al., "The Energy Balance of Corn Ethanol: An Update," US Department of Agriculture, July 2002, http://www.usda.gov/oce/reports/energy/aer-814.pdf
92. Marcello Oliveira et al., "Ethanol as Fuel: energy, Carbon Dioxide, Balances, and Ecological Footprint," Bioscience, July 2005, v. 55, no. 7
93. Groode (See no. 89)
94. Kirk Berge, "Ethanol and Biodiesel: the Good, the Bad, and the Unlikely," Dec. 5, 2008, http://www.peakoil.net/files/Biofuels_%20the%20G_%20the%20B_the%20U.pdf
95. Dennis Avery, "Biofuels, Food, or Wildlife? The Massive Land Costs of US Ethanol," Competitive Enterprise Institute, Sep. 21, 2006, http://cei.org/pdf/5532.pdf
96. Texas windfarm photograph from US Department of Energy
97. "Food Outlook, Global Market Analysis," Food and Agriculture Organization, June 2006, http://www.fao.org/docrep/009/J7927e/J7927e00.htm
98. Biofuels for Transport (See no 88)
99. "Annual Energy Outlook 2011," US Energy Information Adminstration, http://www.eia.gov/forecasts/aeo/er/
100. "Biofuels: Prospects, Risks, and Opportunities," Food and Agriculture Organization of the United Nations, 2008, http://www.fao.org/publications/sofa-2008/en/
101. "US Long Term Corn Projections," US Dept. of Agriculture, Aug. 2011, http://www.usda.gov/wps/portal/usda/usdahome
102. "World Biofuel Production," US Energy Information Adminstration, 2012, http://www.eia.gov/cfapps/ipdbproject/IEDIndex3.cfm; "World Agricultural Outlook Database," Food and Agriculatural Policy Research Institute, Iowa State University, 2012, http://www.fapri.iastate.edu/tools/outlook.aspx
103. Donald Mitchell, "A Note on Rising Food Prices," World Bank, July 2008, http://www-wds.worldbank.org/servlet/WDSContentServer/WDSP/IB/2008/07/28/000020439_20080728103002/Rendered/PDF/WP4682.pdf
104. Lester Brown, "Starving the People to Feed the Cars," The Washington Post, Sep. 10, 2006, http://www.washingtonpost.com/wp-dyn/content/article/2006/09/08/AR2006090801596_pf.html
105. M. Wu et al., "Consumptive Water Use in the Production of Ethanol and Petroleum Gasoline," Argonne National Laboratory, Jan. 2009, http://www.transportation.anl.gov/pdfs/AF/557.pdf
106. Winnie Gerbens-Leenes et al., "The water footprint of bioenergy," Proceedings of the National Academy of Sciences, v. 106, n. 25, June 23, 2009, http://www.pnas.org/content/106/25/10219.full.pdf+html
107. Wu (See no. 105)
108. Gerbens-Leenes (See no. 106)
109. "Renewable Fuel Standard: Potential Economic and Environmental Effects of US Biofuel Policy," National Research Council of the National Academies, 2011, http://www.nap.edu/catalog.php?record_id=13105
110. "Opinion of the EEA Scientific Committee on Greenhouse Gas Accounting in Relation to Bioenergy," European Environment Agency, Sep. 15, 2011, http://www.euractiv.com/climate-environment/eu-fresh-row-biofuels-green-claims-news-507737
111. Ibid
112. Peter Bella, "Algae for fuel: Obama's next energy plan," The Washington Times, Feb. 24, 2012, http://communities.washingtontimes.com/neighborhood/middle-class-guy/2012/feb/24/obamas-algae-energy-plan/;Hamster image by Doenertier82 under Creative Commons License
113. "Al Gore's Ethanol Epiphany," The Wall Street Journal, Nov. 27, 2010, http://online.wsj.com/article/SB10001424052748703572404575634753486416076.html
114. European Commission (See no. 84)
115. "Renewable and Alternative Fuels," US Environmental Protection Agency, 2012, http://www.epa.gov/otaq/fuels/alternative-renewablefuels/index.htm
116. "Presidental memorandum—Federal Fleet Performance," White House press release, May 24, 2011, http://www.whitehouse.gov/the-press-office/2011/05/24/presidential-memorandum-federal-fleet-performance
117. "History of Electric Vehicles," About.com, http://inventors.about.com/od/estartinventions/a/Electric-Vehicles.htm
118. Thomas Edison with electric car image from the Smithsonian
119. Alex Planes, "America's sad love affair with the electric car," MSN Money, jan. 6, 2012, http://money.msn.com/investment-advice/latest.aspx?post=b0922a19-be45-45a1-8967-9055b8c94c67
120. John Voelcker, "Obama 2012 Budget Proposes Higher Tax Credit For Plug-In Cars," The Washington Post, Feb. 15, 2012, http://www.washingtonpost.com/cars/obama-2012-budget-proposes-higher-tax-credit-for-plug-in-cars/2012/02/15/gIQAPuKgFR_story.html
121. "2017 and Later Model Year Light-Duty Vehicle Greenhouse Gas Emissions and Corporate Average Fuel Economy Standards," Environmental Protection Agency and Department of Transportation, Federal Register, v. 76, no. 231, Dec. 1, 2011, http://www.nhtsa.gov/About+NHTSA/Press+Releases/2011/We+Can't+Wait:+Obama+Administration+Proposes+ Historic+Fuel+Economy+Standards+to+Reduce+Dependence+on+Oil,+Save+Consumers+Money+at+the+Pump
122. "Electric Vehicles," University of Tennessee Chattanooga Center for Energy, Transportation, and the Environment, 2012, http://www.utc.edu/Research/CETE/electric.php
123. "Useful Conversion Factors," IOR Energy, 2009
124. Bill Canis, "Battery Manufacturing for Hybrid and Electric Vehicles: Policy Issues," Congressional Research Service, Mar. 22, 2011, http://www.fas.org/sgp/crs/misc/R41709.pdf
125. Electric Vehicles (See no. 122)
126. Useful Conversion Factors (See no. 123)
127. "Vapor Recovery Test Procedure," California Environmental Protection Agency, Apr. 12, 1996, http://www.arb.ca.gov/regact/march2000evr/tp-201.5.pdf
128. Canis (See no. 124)
129. William O'Keefe, "Electric Cars: Not Ready for Prime Time," The Marshall Institute, Dec. 2010, http://www.marshall.org/article.php?id=922
130. "Transitions to Alternative Transportation Technologies: Plug-in Hybrid Electric Vehicles," National Academy of Sciences, 2010, http://www.nap.edu/catalog.php?record_id=12826
131. "GM to investigate after Chevy Volt hybrid catches fire for SECOND time in a week—even though it was unplugged." Daily Mail, Apr. 19, 2011, http://www.dailymail.co.uk/news/article-1378314/GM-investigate-Chevy-Volt-hybrid-sparks-second-week.html; Burning wind turbine photograph by Polizei Stade
132. Earth in Balance (See no. 10)
133. "Electric car owners may face £19,000 battery charge," Telegraph, Aug. 1, 2011, http://www.telegraph.co.uk/motoring/news/8674273/Electric-car-owners-may-face-19000-battery-charge.html
134. Sebastian Blanco, "Chevy Volt has best month ever, but Nissan Leaf still wins 2011 plug-in sales contest," Autoblog Green, Jan. 4, 2012, http://green.autoblog.com/2012/01/04/chevy-volt-has-best-month-ever-but-nissan-leaf-still-wins-2011/
135. BrainyQuote.com, Xplore Inc, 2012. http://www.brainyquote.com/quotes/quotes/w/winstonchu135256.html
136. Climatism! (See no. 17), p. 320
137. "Obama aims for a million green cars by 2015," ABC News, Mar. 20, 2009, http://www.abc.net.au/news/2009-03-20/obama-aims-for-a-million-green-cars-by-2015/1625172
138. Leslie Crawford, "Interview transcript: Jose Luis Rodríguez Zapatero," Financial Times, June 4, 2008, http://www.ft.com/intl/cms/s/0/7eec944e-324b-11dd-9b87-0000779fd2ac.html#axzz1oitrhT3X
139. Gabriel Calzada Álvarez et al., "Study of the effects on employment of public aid to renewable energy sources," Universidad Rey Juan Carlos, Mar. 2009, http://www.juandemariana.org/pdf/090327-employment-public-aid-renewable.pdf
140. International Energy Annual 2006, US Energy Information Administration, http://205.254.135.7/iea/
141. Asociación de la Industria Fotovoltaica, 2009, http://www.asif.org/
142. "Spain subsidy cuts seen threatening thousands of jobs," Solar Daily, Jan. 31, 2012, http://www.solardaily.com/reports/Spain_subsidy_cuts_seen_threatening_thousands_of_jobs_999.html
143. "How to Create a Job: Creating Value, not Just Work," Economic Freedom, Sep. 14, 2009, http://www.economicfreedom.org/2011/09/14/how-to-create-a-job-creating-value-not-just-work/
144. IEA Wind 2010 Annual Report, International Energy Agency, July 2011, http://www.ieawind.org/
145. "Biomass 2020: Opportunities, Challenges, and Solutions," Eurelectric, Oct. 2011, http://www2.eurelectric.org/Content/Default.asp?
146. Neubacher (See no. 19)
147. Neubacher (See no. 19)
148. "Economic impacts from the promotion of renewable energies: The German experience," RWI, Oct. 2009, http://www.wind-watch.org/documents/economic-impacts-from-the-promotion-of-renewable-energies-the-german-experience/
149. "Development of renewable energy sources in Germany in 2010," Federal Ministry for the Environment, Nature Conservation and Nuclear Safety, Dec. 2011, http://www.bmu.de/english/renewable_energy/doc/39831.php
150. "The Energy Concept and its accelerated implementation," Federal Ministry for the Environment, Nature Conservation and Nuclear Safety, Oct. 2011, http://www.bmu.de/english/transformation_of_the_energy_system/resolutions_and_measures/doc/48054.php
151. "World in Transition: A Social Contract for Sustainability," The German Advisory Council on Global Change, Mar. 2011, http://www.wbgu.de/fileadmin/templates/dateien/veroeffentlichungen/hauptgutachten/jg2011/wbgu_jg2011_kurz_en.pdf
152. Ibid
153. "Fukushima Investigative Report," Dec, 26, 2011, http://icanps.go.jp/eng/120224SummaryEng.pdf
154. "Germany to Phase Out Nuclear Power by 2022," Spiegel On Line, May 30, 2011, http://www.spiegel.de/international/germany/0,1518,765594,00.html
155. Günther Kiel, "Germany's Energy Supply Transformation Has Already Failed," European Institute for Climate and Energy, Dec. 2011, http://www.eike-klima-energie.eu/fileadmin/user_upload/Bilder_Dateien/Keil_Energiewende_gescheitert/2012-EIKE_Germanys_green_energy_turnaround_V2.pdf
156. Development of renewable energy sources (See no. 149)
157. Development of renewable energy sources (See no. 149)
158. Neubacher (See no. 19)
159. RWI (See no. 148)
160. "European Residential Energy Price Report 2011," VaasaETT, Mar. 8,2011, http://www.vaasaett.com/2011/04/european-residential-energy-price-report-2011-released/
161. "Energy transition affects one in five industry operating activities moved abroad or plan to do so!," European Institute for Climate and Energy, Jan. 20, 2012, http://www.eike-klima-energie.eu/news-cache/energiewende-wirkt-jeder-fuenfte-industriebetrieb-verlegt-aktivitaeten-ins-ausland-oder-plant-dies/
162. Marc Roca and Netalie Pearson, "Solar Stocks Plunge as Germany Vows to Quicken Subsidy Cuts," Bloomberg Businessweek, Jan. 20, 2012, http://www.bloomberg.com/news/2012-01-20/solar-stocks-plunge-worldwide-as-germany-accelerates-rate-cuts.html
163. Neubacher (See no. 19)
164. Angelo Racoma, "Solar Cell Prices Stabilize at US$ 0.50 per Watt," TechwireAsia, Feb. 20, 2012, http://www.techwireasia.com/2021/solar-cell-prices-stabilize-at-us-0-50-per-watt/
165. Jeremy van Loon, "Merkel's Nuclear Plan Earns Derision as Clean Power Costs Climb," Bloomberg, Jan. 4, 2011, http://www.bloomberg.com/news/2011-01-04/merkel-s-nuclear-embrace-earns-derision-as-german-clean-power-costs-climb.html
166. "Campaigners welcome PM's pledge to lead 'greenest Government ever,'" ClickGreen, May 15, 2010, http://www.clickgreen.org.uk/news/national-news/121317-eco-sector-welcomes-pms-pledge-to-be-%E2%80%9Cgreenest-government-ever%E2%80%9D.html
167. Andrew Orlowski, "Snow blankets London for Global Warming debate," The Register, Oct. 29, 2008, http://www.theregister.co.uk/2008/10/29/commons_climate_change_bill/
168. Ibid
169. "UK Energy in Brief 2011," Department of Energy and Climate Change, July 2011, http://www.decc.gov.uk/assets/decc/11/stats/publications/energy-in-brief/2286-uk-energy-in-brief-2011.pdf
170. "Renewables Output in 2010," Renewable Energy Foundation, Apr. 12, 2011, http://www.ref.org.uk/publications/229-renewables-output-in-2010
171. Aaron Patrick, "Wind energy endures a gale of hostility," Telegraph, Mar. 26, 2005, http://www.telegraph.co.uk/finance/2912692/Wind-energy-endures-a-gale-of-hostility.html
172. IEA Wind (See no. 144)
173. Renewables Output (See no. 170)
174. Tom Peterkin, "Meeting 2020 renewable energy targets would cost households £4,000 a year," Telegraph, June 25, 2008, http://www.telegraph.co.uk/earth/earthnews/3345397/Meeting-2020-renewable-energy-targets-would-cost-households-4000-a-year.html
175. Robert Mendick and Edward Malnick, "The aristocrats cashing in on Britain's wind farm subsidies," Telegraph, Aug. 21, 2011, http://www.telegraph.co.uk/earth/energy/windpower/8713128/The-aristocrats-cashing-in-on-Britains-wind-farm-subsidies.html
176. UK Energy in Brief (See no. 169)
177. Rowena Mason, "Government accused of 'destroying 25,000 green jobs,'" Telegraph, Oct. 31, 2011, http://www.telegraph.co.uk/news/8859934/Government-accused-of-destroying-25000-green-jobs.html
178. J.P. Lesley, State Geologist of Pennsylvania, 1886, quoted in Standard Oil Company (Indiana): Oil Pioneer of the Middle West by Paul Giddens (Appleton-Century-Crofts, 1955), p.2; Crystal ball image by Eva Kröcher under GFDL
179. L. Schneider and B. Brooks, American Association of Petroleum Geologists Bulletin, 1936, quoted in Edward Porter, "Are We Running Out of Oil?," American Petroleum Institute, Discussion paper #81, Dec. 1995
180. Energy and the Future by Allen Hammond et al. (American Association for the Advancement of Science, 1973), p.vi
181. World Energy Strategies: Facts, Issues, and Options by Amory Lovins (Friends of the Earth International, 1975), p. 26
182. "Conferences: Opening the Debate," Time Magazine, Apr. 25, 1977, http://www.time.com/time/magazine/article/0,9171,918861,00.html
183. "The World Oil market in the Years Ahead," US Central Intelligence Agency, Aug. 1979, p. iii
184. Dave Cohen, "The Perfect Storm," Energy Bulletin, ASPO, Oct. 31, 2007, http://www.energybulletin.net/node/36510
185. Out of Gas: The End of the Age of Oil by David Goodstein (W.W. Norton, 2004), p. 123
186. "International Energy Statistics," Energy Information Agency, http://www.eia.gov/cfapps/ipdbproject/IEDIndex3.cfm?tid=5&pid=53&aid=1
187. Ibid
188. "A Time Comes: What it means to take action," Greenpeace, June 3, 2009, http://www.greenpeace.org/usa/en/news-and-blogs/news/what-it-means-to-take-action/
189. Sierra Club, http://www.sierraclub.org/
190. Mark Drajem, "NASA's Hansen Arrested Outside White House at Pipeline Protest," Bloomberg, Aug. 29, 2011, http://www.bloomberg.com/news/2011-08-29/nasa-s-hansen-arrested-outside-white-house-at-pipeline-protest.html
191. International Energy Statistics (See no. 186)
192. Nathan Myhrvold, "Energy Revolution Keeps Carbon on top: Myhrvold," Bloomberg, Oct. 26, 2011, http://www.bloomberg.com/news/2011-10-26/the-energy-revolution-that-keeps-carbon-on-top-nathan-myhrvold.html
193. "The Facts About Fracking," The Wall Street Journal, June 25, 2011, http://online.wsj.com/article/SB10001424052702303936704576398462932810874.html
194. "A Tale of Two Shale States," The Wall Street Journal, July 26, 2011, http://online.wsj.com/article/SB10001424052702303678704576442053700739990.html
195. "World Shale Gas Resources: An Initial Assessment of 14 Regions Outside the United States," Energy Information Administration, Apr. 2011, http://www.eia.gov/analysis/studies/worldshalegas/
196. Greenpeace (2000) quoted in The Skeptical Environmentalist by Bjorn Lomborg (Cambridge, 2001), p. 258
197. Andrew Gilligan, "Field of dreams, or an environment nightmare?," Telegraph, Nov. 26, 2011, http://www.telegraph.co.uk/earth/energy/gas/8918399/Field-of-dreams-or-an-environment-nightmare.html
198. John Broderick et al., "Shale gas: an updated assessment of environmental and climate change impacts," Tyndall Centre for Climate Change Research, Nov. 2011, http://www.tyndall.ac.uk/
199. "Gasland," IMDb, 2010,http://www.imdb.com/title/tt1558250/
200. Phelim McAleer, "The Gasland movie: a fracking shame—director pulls video to hide inconvenient truths," WattsUpWithThat, June 4, 2011, http://wattsupwiththat.com/2011/06/04/the-gasland-movie-a-fracking-shame-director-pulls-video-to-hide-inconvenient-truths/
201. Thomas Jefferson. BrainyQuote.com, Xplore Inc, 2012. http://www.brainyquote.com/quotes/quotes/t/thomasjeff101820.html, accessed March 10, 2012
202. Dieter Helm, "The peak oil brigade is leading us into bad policymaking on energy," Guardian, Oct. 18, 2011, http://www.guardian.co.uk/commentisfree/2011/oct/18/energy-price-volatility-policy-fossil-fuels
203. Energy Information Administration, http://www.eia.gov/
204. Robert Bradley, "Shale Oil vs. Peak Oil," Institute for Energy Research, July 7, 2011, http://www.instituteforenergyresearch.org/2011/07/07/shale-oil-vs-peak-oil/
Chapter 12 Notes (pages 227-236)
1. "International Cremation Statistics 2008," The Cremation Society of Great Britain, http://www.srgw.demon.co.uk/CremSoc5/Stats/Interntl/2008/StatsIF.html
2. Marina Kamenev, "Aquamation: A Greener Alternative to Cremation?," Time Magazine, Sep. 28, 2010, http://www.time.com/time/health/article/0,8599,2022206,00.html
3. Holly Richmond, "Crematorium to heat UK swimming pool," Grist, Feb. 4, 2011, http://grist.org/living/2011-02-03-crematorium-to-heat-u-k-swimming-pool/
4. "An Introduction to Aquamation," Aquamation Industries, 2010, http://www.aquamationindustries.com/Aquamation%20-%20An%20Introduction.pdf
5. Brid-Aine Parnell, "Global warming COULD SHRINK THE HUMAN RACE," The Register, Feb. 24, 2012, http://www.theregister.co.uk/2012/02/24/high_temps_shrink_mammals/
6. "Spanish Solar-Panel Trade Group Calls for Fraud Investigation," Bloomberg, Apr. 12, 2010, http://saveourseashore.org/?p=1395
7. "Navy Explores Biofuels," US Navy, http://www.navy.mil/swf/mmu/mmplyr.asp?id=13846
8. James Bartis and Lawrence van Bibber, "Alternative Fuels for Military Applications, Rand Corporation, 2011, http://www.rand.org/pubs/monographs/MG969.html
9. "Operational Energy Strategy: Implementation Plan," Department of Defense, Mar. 2012, http://energy.defense.gov/Operational_Energy_Strategy_Implementation_Plan.pdf
10. Andrew Barr, "Biofuels and the US Navy's 'Great Green Fleet,'" The Heartland Institute, http://blog.heartland.org/2011/12/biofuels-and-the-u-s-navys-great-green-fleet-2/
11. Bartis and Bibber (See no. 8)
12. Andrew Herndon, "Navy to Buy $12 Million of Advanced Biofuels in Record Purchase," Bloomberg, Dec. 5, 2011, http://www.bloomberg.com/news/2011-12-05/navy-to-buy-12-million-of-advanced-biofuels-in-record-purchase.html
13. Jim Lane, "US Government to Invest $510 Million in Advanced, Drop-in Biofuels," Biofuels Digest, Aug. 16, 2011, http://www.renewableenergyworld.com/rea/news/article/2011/08/us-government-to-invest-510-million-in-advanced-drop-in-biofuels
14. Bartis and Bibber (See no. 8)
15. Karin Zeitvogel, "Global warming could spur toxic algae, bacteria in seas," Sydney Morning Herald, Feb. 20, 2011, http://news.smh.com.au/breaking-news-world/global-warming-could-spur-toxic-algae-bacteria-in-seas-20110220-1b0oz.html
16. "Are Scarborough's stop signs contributing to global warming," Inside Toronto, Jan. 19, 2012, http://www.insidetoronto. com/news/local/article/1281403
17. Pilita Clark, "Australia poised to allow camel cull," Financial Times, June 7, 2011, http://www.ft.com/intl/cms/s/0/6e633ac8-9126-11e0-9668-00144feab49a.html#axzz1pgoJ8GDU
18. "Feral animal management positive list activity," Department of Climate Change and Energy Efficiency, Feb. 8, 2012, http://www.climatechange.gov.au/en/government/initiatives/carbon-farming-initiative/activities-eligible-excluded/additional-activities-positive-list/feral-animal-management.aspx
19. Camel photo by Jjron, Jul. 7, 2007 under GNU Free Documentation License
20. "Developing Methods to Reduce Bird Mortality in the Altamont Pass Wind Resource Area," Pier Report for the California Energy Commissions, Aug. 2004, http://www.energy.ca.gov/reports/500-04-052/500-04-052_00_EXEC_SUM.PDF
21. Albert Manville, "Towers, Turbines, Power Lines, and Buildings—Steps Being Taken by the US Fish and Wildlife Service to Avoid or Minimize Take of Migratory Birds at These Structures," Proceedings of the Fourth International Flight Conference, 2009, http://utahcbcp.org/htm/tall-structure-info/publication=12537
22. Eagle killed by wind turbine image by Stellan Hedgren
23. "Dorset school's 'bird killer' wind turbine turned off," BBC News, July 6, 2010, http://www.bbc.co.uk/news/10518796
24. "Primary school forced to turn off wind turbine after bird deaths," Telegraph, July 4, 2010, http://www.telegraph.co.uk/earth/energy/7870929/Primary-school-forced-to-turn-off-wind-turbine-after-bird-deaths.html
25. "Pillar 2: Sustainable Resource Use," Green Schools Initiative, http://greenschools.net/article.php?id=130
26. Kate Loveys, "Foiled by the winter: The £25,000 eco-classroom that can't be used because solar panels don't provide enough heat," Daily Mail, Feb. 24, 2011, http://www.dailymail.co.uk/news/article-1360297/25-000-eco-classroom-used-solar-panels-dont-provide-heat.html
27. "Muswell Hill Low Carbon Zone," Haringey Council, http://www.haringey.gov.uk/lcz
28. Living ark image provided by Sue Dunster of Zed Factory Ltd.
29. Foiled by the winter (See no. 26)
30. Michael Zennie, "Students step over 'rivers of urine' after green bathrooms plan for waterless urinals turns a school yellow…and it will cost $500,000 to fix," Daily Mail, Jan. 30, 2012, http://www.dailymail.co.uk/news/article-2093979/Students-step-rivers-urine-green-bathrooms-plan-turns-high-school-yellow–cost-500-000-fix.html
31. Southern California wind turbine farm photograph by James McCauley under Creative Commons License
32. "LACCD Builds Green," Los Angeles Community College, http://www.laccdbuildsgreen.org/sustainable-aboutProgram.php
33. Michael Finnegan and Gale Holland, "Grand dream loses sheen in glare of daylight," Los Angeles Times, Mar. 6, 2011, http://www.latimes.com/news/local/la-me-build6-20110306,0,4909175.story
34. "Energy Oversight Committee Report," Los Angeles Community College, Nov. 18, 2009, http://www.laccdbuildsgreen.org/sustainable-renewablePlan.php
35. "East Los Angeles College – 1 Megawatt Photovoltaic Power Facility," Education Design Showcase, http://www.educationdesignshowcase.com/view.esiml?pid=209
36. Ibid
37. Grand dream (See no. 33)
38. Tiffany Gabbay, "Education British Principal Cuts Off Classrooms' Heat Amid Near-Freezing Temperatures to Lower Carbon Footprint," The Blaze, Dec. 7, 2011, http://www.theblaze.com/stories/british-principal-cuts-off-clasrooms-heat-amid-near-freezing-temperatures-to-lower-carbon-footprint/
39. "Earth Hour 2012," World Wildlife Fund, http://www.worldwildlife.org/sites/earthhour/index.html
40. "Earth Science Picture of the Day," EPOD, NASA's Earth Science Division, http://epod.usra.edu/blog/2002/02/north-and-south-korea-at-night-1.html
41. "Climate change could be causing cougar attacks: expert," Canada.com, Aug. 29, 2007, http://www.canada.com/nationalpost/news/story.html?id=c5e6120a-be10-4497-8f32-cd8585e5ca33&k=51234
42. Agence France-Presse, "Climate change cited as shark attacks 'double,'" The Raw Story, Feb. 13, 2012, http://www.rawstory.com/rs/2012/02/13/climate-change-cited-as-shark-attacks-double/
43. John Vidal, "There are many tiger widows here," Guardian, Sep. 25, 2008, http://www.guardian.co.uk/environment/2008/sep/25/conservation.climatechange
44. Bonnie Malkin, "Duck-billed platypus at risk from climate change," Telegraph, June 24, 2011, http://www.telegraph.co.uk/earth/wildlife/8596068/Duck-billed-platypus-at-risk-from-climate-change.html
45. Menchie Tiongan, "Bats Kill More Children in Brazil," Seer Press News, Sep. 25, 2010, http://seerpress.com/bats-kill-more-children-in-brazil/7675/
46. Derek Abma, "Global warming, spread of infected ticks linked," The Vancouver Sun, Mar. 6, 2012, http://www.vancouversun.com/health/Global+warming+spread+infected+ticks+linked/6256364/story.html
47. Eoin O'Carroll, "New hybrid sharks discovered: Signs of global warming?," The Christian Science Monitor, Jan. 3, 2012, http://www.csmonitor.com/Science/2012/0103/New-hybrid-sharks-discovered-Signs-of-global-warming
48. Zachary Shahan, "Lizard that Outlived Dinosaurs May Go Extinct from Climate Change," Planetsave, June 19, 2010, http://planetsave.com/2010/06/19/lizard-that-outlived-dinosaurs-may-go-extinct-from-climate-change/
49. Emma Young, "Global warming poses deaf threat to tropical fish," New Scientist, Mar. 6, 2008, http://www.newscientist.com/article/dn13417-global-warming-poses-deaf-threat-to-tropical-fish.html
50. "Flowers losing scent due to climate change," Asia One, Mar. 22, 2010, http://news.asiaone.com/News/AsiaOne+News/Malaysia/Story/A1Story20100322-206015.html
Chapter 13 Notes (pages 237-246)
1. J.T. Houghton, "Climate Change: The IPCC Scientific Assessment," IPCC Working Group I, 1990, p. XXII
2. David Evans, "The Skeptic's Case," Feb. 27, 2012, http://jonova.s3.amazonaws.com/guest/evans-david/skeptics-case.pdf
3. James Hansen, et. al, "Earth's Energy Imbalance: Confirmation and Implications," Science, v. 308, June 3, 2005
4. "Argo: part of the integrated global observation strategy," University of California at San Diego, http://www.argo.ucsd.edu/
5. Houghton (See no. 1)
6. Evans (See no. 2)
7. Hansen (See no. 3)
8. Evans (See no. 2)
9. Kevin Trenberth, "An imperative for climate change planning: tracking Earth's global energy," ScienceDirect, v. 1, pp. 19-27, 2009, http://www.cgd.ucar.edu/cas/Trenberth/trenberth.papers/EnergyDiagnostics09final2.pdf
10. David Archibald, "Solar Cycle 24: Expectations and Implications," Energy & Environment, v. 20, n. 1&2, 2009, http://www.davidarchibald.info/papers/Archibald2009E&E.pdf
11. "Climate Change 2007: Synthesis Report," Intergovernmental Panel on Climate Change, p. 39, http://www.ipcc.ch/publications_and_data/ar4/syr/en/contents.html
12. Barack Obama speech in St. Paul, Minnesota, June 3, 2008, http://www.youtube.com/watch?v=gI3FLN1t8j0
13. "The American Clean Energy and Security Act (Waxman-Markey Bill)," Center for Climate and Energy Solutions, http://www.c2es.org/federal/congress/111/acesa
14. "Questions and Answers on the Communication Towards a Comprehensive Climate Change Agreement in Copenhagen," Europa.eu, Jan. 28, 2009, http://europa.eu/rapid/pressReleasesAction.do?reference=MEMO/09/34&format=HTML&aged=1&language=EN&guiLanguage=en
15. Fred Pierce, "Earth Summit is doomed to fail, say leading ecologists," New Scientist, Feb. 10, 2012, http://www.newscientist.com/article/dn21465-earth-summit-is-doomed-to-fail-say-leading-ecologists.html
16. "China Threatens massive Venting of Super Greenhouse Gases in Attempt to Extort Billions as UNFCCC Meeting Approaches," PRNewswire, Nov. 8, 2011, http://www.prnewswire.com/news-releases/china-threatens-massive-venting-of-super-greenhouse-gases-in-attempt-to-extort-billions-as-unfccc-meeting-approaches-133433253.html
17. The Heartland Institute, http://climateconferences.heartland.org/
18. Climate Change Reconsidered: The Report of the Nongovernmental International Panel on Climate Change (The Heartland Institute, 2009)
19. "Copenhagen Accord," United Nations Framework Convention on Climate Change, Dec. 18, 2009, http://unfccc.int/files/meetings/cop_15/application/pdf/cop15_cph_auv.pdf
20. Paul Krugman, "Cassandras of Climate," The New York Times, Sep. 28, 2009, http://www.nytimes.com/2009/09/28/opinion/28krugman.html
21. Dirk Kurbjuweit et. al, "Merkel Abandons Aim of Binding Climate Agreement," Spiegel Online, Apr. 26, 2010, http://www.spiegel.de/international/germany/0,1518,691194,00.html
22. "Milestones on the road to 2012: The Cancun Agreements," United Nations Framework Convention on Climate Change, http://unfccc.int/essential_background/cancun_agreements/items/6132.php
23. Arthur Max, "Climate conference approves landmark deal," Associated Press, Dec. 11, 2011, http://cnsnews.com/news/article/climate-conference-approves-landmark-deal
24. "Kyoto deal loses four big nations," Sydney Morning Herald, May 29, 2011, http://www.smh.com.au/environment/climate-change/kyoto-deal-loses-four-big-nations-20110528-1f9dk.html
25. "Long-Term Trend in Global CO2 Emissions," PBL Netherlands Environmental Assessment Agency, Sep. 11, 2011, http://www.pbl.nl/en/publications/2011/long-term-trend-in-global-co2-emissions-2011-report
26. Wind turbines in Hawaii image by ©PF Bentley/PFPIX.com
27. Solar farm image by Knut Löschke
28. Emissions (See no. 25)
29. "UK's Carbon Footprint 1990-2009," Department for the Environment, Food, and Rural Affairs, Mar. 8, 2012, http://www.defra.gov.uk/statistics/files/Release_carbon_footprint_08Mar12.pdf
30. "Solar Trust of America files bankruptcy," Reuters, Apr. 2, 2012, http://www.reuters.com/article/2012/04/02/us-solartrust-bankruptcy-idUSBRE8310ZV20120402; Burning wind turbine photograph by Polizei Stade"
31. Reducing emissions from transport," European Commission, Jan. 6, 2011, http://ec.europa.eu/clima/policies/transport/index_en.htm
32. "Euro MPs back patio heaters ban," BBC News, Jan. 31, 2008, http://news.bbc.co.uk/2/hi/europe/7219565.stmOrganisation for Economic Co-operation and Development (OECD), http://www.oecd.org/home/0,2987,en_2649_201185_1_1_1_1_1,00.html
33. "Report of the World Commission on Environment and Development," United Nations General Assembly, A/RES/42/187, Dec. 11, 1987, http://www.un.org/documents/ga/res/42/ares42-187.htm
34. "The Millinium Development Goals Report," United Nations, 2010, http://www.un.org/millenniumgoals/pdf/MDG%20Report%202010%20En%20r15%20-low%20res%2020100615%20-.pdf
35. "Who's Winning the Clean Energy Race," The Pew Charitable Trusts, 2011, http://www.pewtrusts.org/uploadedFiles/wwwpewtrustsorg/Reports/Global_warming/G-20%20Report.pdf
36. Organisation for Economic Co-operation and Development (OECD), http://www.oecd.org/home/0,2987,en_2649_201185_1_1_1_1_1,00.html

_____________________________________________________________________________________________
Index for The Mad, Mad, Mad World of Climatism
A – B – C – D – E – F – G – H – I – J – K – L – M – N – O – P – Q – R – S – T – U – V – W – X – Y – Z
350.org, 9
A
Aarhus University, 96
ABC, 113
Accumulated Cyclone Energy, 118
Aerosols, 74, 95, 96, 121
Africa, 39, 40, 42, 68, 157, 224
Agenda 21, 141
Agoumi, Ali, 157
Ahmadinejad, Mahmoud, 34
A Hot Planet Needs Cool Kids, 143
Airbus, 29
Air Passenger Duty (APD), 28
Air travel, 28-29, 35
Akasofu, Syun, 69
Albedo, surface, 72
Alcamo, Joseph, 167
Alfred Wegener Institute for Polar and Marine Research, 60
Algeria, 157
Allen, Myles, 123, 162
Allen, Robert, 91
Alpha Institute of Medical Sciences, 134
Álverez, Cabriel Calzada, 214
American Assoc. of Petroleum Geologists, 221
American Enterprise Institute, 179
American Geophysical Union (AGU), 15, 172
American Meteorological Society (AMS), 15,172, 180-181
American Petroleum Institute, 14
American Physical Society, 15, 155, 180-182
American Wind Energy Association, 199
Ananth, Gene, 178
Anderson, Kevin, 35
Andosol plant, 192-196, 200
Andreev, Andrei, 60-61
Andresen, Bjarne, 147
A New Prosperity, Building a Sustainable Energy Future, 186
An Inconvenient Truth, 7, 9, 102, 129
Antarctica, 1, 68, 76, 79-80, 93, 104-106, 108, 111, 240
Antarctic Ocean, 140
Aquamation Industries, 228
Archer Daniels Midland, 176
Archer, David, 120
Arctic, 68, 102-104, 106, 108, 110-111, 137-138, 222
Ocean, 104
Argentina, 224
Argo network, 238-239
Argonne National Laboratory, 208
Arnesen, Liv, 110
Asia, 29, 38, 42, 60-62, 102, 215, 218
Asian Development Bank, 42
Association for the Study of Peak Oil and Gas, 221
Athabasca Glacier, 52
Atlantic Multidecadal Oscillation, 68, 240
Atlantic Ocean, 62, 68, 74, 116, 121, 140
Atmosphere, 72-74
Aurora, 93
Australia, 10-11, 32, 40, 44, 68, 89, 111, 130, 134, 143-144, 151-154, 169, 177, 224, 226- 227, 231, 236
Australian Broadcasting Corporation, 143
Australian Competition and Consumer Commission, 44
Australian Department of Climate Change and Energy Efficiency, 231
Australian Institute of Marine Science, 139
Australian National Climate Centre, 151
Automobile (see vehicle)
Avery, Dennis, 62-63, 67
Avila, Jim, 114
B
BAA, 122
Baige, Zhao, 33
Baldwin, Alec, 30
Bancroft, Ann, 110
Bangladesh, 102, 124
Bank of America, 40
BankTrack, 40
Barbieri, Frank, 234
Barclays Capital, 176
Bari, Judi, 34
Barnett, Tim, 121
Battery, 196, 211-214
BBC, 103, 105, 167-168, 245
Beddington, John, 125
Begley Jr., Ed, 39
Begley, Sharon, 115, 178
Belgium, 31
Bentek Industries, 199
Benzie, Robert, 235
Biofuel (or biodiesel), 19-20, 39, 45, 170, 176, 183, 186-189, 203-210, 215-216, 226, 229-230, 243, 245
Biofuels Directive, 204
Blair, Tony, 9, 132, 203, 232-233
BNP Paribus, 176
Bolin, Bert, 96
Bolivia, 34
Bonneville Power Administration (BPA), 198
Boulton, Geoffery, 165
BP, 176
Bradley, Robert, 226
Branson, Richard, 30
Braswell, William, 88
Brazil, 29, 32, 157, 204-206, 236, 242
Briffa, Keith, 159-162, 170
Britain (see United Kingdom)
British Airways, 28
British Antarctic Survey, 32
Brown, Donald, 128
Browner, Carol, 128
Brown, Gordon, 156
Brundtland, Gro Harlem, 177-178
Bryce, Robert, 190, 195
BT Financial Group, 14
Bush, George W., 179, 203
Business, 13, 21, 35, 43-44
C
C40 Cities Climate Leadership Group, 12
California, 7, 68, 102, 128, 169-170, 187, 196, 232-234, 245
California Energy Commission, 232
Cambridge Media Environment Programme (CMEP), 167-168
Cambridge University, 102
Cameron, David, 11, 24, 218
Cameroon, 25
Campbell, Philip, 165
Canada, 22, 32, 64, 111, 115, 130, 134, 137, 156-157, 166, 169, 177, 211, 222, 224-226, 230, 236, 243
Canadian Meteorological and Oceanographic Society (CMOS), 15
Cap-and-trade, 20, 28, 40-41, 44, 170, 175
allowances (permits), 41-42, 176, 243
Capitalism, 34-35, 45
Capps, Lois, 135
Car (see vehicle)
Carbon, 98, 130
Carbon Capture and Storage (CCS), 192
Carbon Capture and Storage Association, 164
Carbon credits (offsets), 28-29, 42-43, 45
Carbon Cycle, 80-82
Carbon dioxide (CO2), 9, 18, 23, 49-51, 53, 55, 66-67, 72-89, 91, 98-99, 110, 112, 115, 118, 128-132, 137, 139, 141-144, 152, 240
emissions, 12, 18-25, 28-30, 32-33, 36-38, 41-44, 47, 49, 53, 55, 71-72, 74, 77-78, 81-82, 108-109, 115, 132, 139, 169, 186,
199-201, 203-204, 209-211, 214, 217, 219, 224, 230-231, 238, 241, 243-244
Carbon Dioxide Analysis Center, 19
Carbon Expo, 42
Carbon, footprint, 3, 13, 29, 35, 41, 45, 110, 132
tax, 20, 44, 170
trading, 13, 20, 40, 43, 44, 176, 182
Carbon monoxide (CO), 120
Carbon Reduction Commitment (CRC), 44
Carlin, George, 17
Carter, Bob, 63
Carter, Jimmy, 186, 188
Cato Institute, 179
CBS, 141, 146
Center for Disease Control, 174
Center for the Study of Carbon Dioxide and Global Change, 62, 139
Centre for Policy Studies, 219
CERN (European Organization for Nuclear Research), 96
Chavez, Hugo, 34
Chicago Tribune, 146
China, 29, 32-33, 60-62, 120, 169, 176, 187-188, 211, 216, 225-226, 242-243
China's National Population and Planning Commission, 33
Chinese Academy of Sciences, 60
Chirac, Jacques, 36
Chlorofluorocarbons, 42-43, 50
Choi, Yong-Sang, 88
Christy, John, 105
Churchill, Winston, 214, 220
Chu, Steven, 187
Citibank (Citigroup), 40, 176
Clean Air Act, 85, 128-129
Clean Development Mechanism, 42
Climate Action Partnership, 14
Climate alarm, 4, 13, 21, 32, 35, 38, 56, 102-103, 115-117, 120, 137, 156, 168, 173, 182
Climate Audit, 66
Climate change,
adaptation, 39, 110, 112
mitigation, 16, 39, 110
Climate Change and the Failure of Democracy, 34
Climate Change: Picturing the Science, 121
Climate Change Reconsidered, 242
Climate conference, 38
Cancun, 18, 29, 36-37, 124-125, 242
Copenhagen, 33, 36, 109, 125, 156, 158, 175, 241-242
Durban, 13, 36-37, 166, 242-243
Climategate, 2, 67, 152, 158-170, 180, 182, 242
Climate Protection Agreement, 12
Climate Research Unit (CRU), 48, 67, 120, 147, 152-153, 158-160, 162-163, 165-167, 169
Climate Science Register, 142
Climatism, definition, 2, 7
Clinton, Bill, 176, 178
Clinton Global Initiative, 176
CLOUD project, 96
Club of Rome, 21, 186
CO2Science, 59, 61-62, 66, 131
Coal, 19-20, 39-41, 80, 126, 128-129, 175, 185-186, 188-190, 192-196, 199-201, 209, 214, 217, 219, 222, 229
Coase, Ronald, 145
Coca-Cola, 138
Cogley, Graham, 156
Cohen, David, 220
Colorado State University, 117, 181
Columbia University, 7
Columbus, Christopher, 58
Computer models, 16, 51-53, 56, 67, 72, 74,77-79, 82, 87, 89-91, 94, 105, 110-111, 120, 124, 138-140, 168, 171,173, 181, 238, 240, 246
Conference on the Changing Atmosphere, 15
Consensus, scientific, 12
Copenhagen Business School, 134
Coral, 53
Corporate Average Fuel Economy, 22-23
Cosmic Rays, 72, 93-99, 180
Credit Suisse, 176
Crow, Cheryl, 30
Crowley, Tom, 167
Cuadrilla Resources, 224-225
Curry, Judith, 164, 167
Cycles, natural, 3, 16, 57, 62-63, 66-69, 72, 80, 99, 103, 138, 238, 240
Milankovich, 62, 67, 80
Cyprus, 134
Czech Republic, 12, 37
D
D'Aleo, Joseph, 115, 153
Dalton Minimum, 92
Danish National Space Center, 94
Dansgaard, Willi, 63
De'ath, Glenn, 139-140
Decarbonization, 217, 245-246
Deforestation, 39, 185
Delingpole, James, 124, 158
Demming, David, 64
Democracy, 33-35, 45
Deniers, climate, 9, 177-178, 181
Denmark, 20, 33, 36, 43, 93-94, 96, 137, 176, 187, 199, 202
Deutsche Bank, 13-14, 176
Developed (industrialized) nations, 36-38, 42, 136, 187, 241, 243
Developing nations, 37-39, 42, 188, 210, 230, 241-243, 246
Diesel, 185, 203-206, 210-212, 228-229, 243, 245
Disease, 40, 52, 133, 136, 144, 177, 246
Distillates, 229-230
Doran, Peter, 141
Douglas, David, 89
Driessen, Paul, 40
Drought, 52, 114-116, 124, 133, 157
Dyson, Freeman, 74
Duncan, Arne, 142
Du Pont Corporation, 14

E
Eaarth, 9
Earth Day, 186
Earth First, 34
Earth Hour, 235
Earthquake, 72, 83, 217, 225
Earth Summit, 16, 36, 141, 182
Earth System Research Laboratory, 49
Eco-Imperialism, 40
Edenhofer, Ottmar, 37
Edison, Thomas, 211
Ehrlich, Anne, 18
Ehrlich, Paul, 18, 32, 185, 201
Einstein, Albert, 146
Eisenhower, Dwight, 172
Electricity, 18-21, 28, 38, 40-41, 43, 185, 187-188, 190-191, 194-201, 205, 214-215, 218-220, 228, 232, 234-235, 243-244, 246
Electric Reliability Council of Texas, 198-199
El Mundo, 228
El Niño Southern Oscillation (ENSO), 67-69, 74
Emanuel, Kerry, 116-118, 164
Emissions Trading System (ETS), 20, 41-44
Energiewende (Energy Transition), 216
Energy, density, 191, 195, 205-206, 209, 212, 226
usage, 38-39, 184, 187-189, 206, 244-245
Energy Information Administration, 187, 190
Engerts, Gail, 233
England (see United Kingdom)
Environmental Defense Fund, 179
Environmental Investigation Agency, 42
EON Corporation, 192, 219
Epps, Pat, 107-108
Equator Principles, 40
Eric the Red, 56
Ethanol (see biofuel)
Europe, 13, 16, 20, 22-23, 28-29, 32, 39, 42-44, 57-58, 62, 74, 120, 123, 126, 130, 132, 134-135, 176-177, 187,
191,197, 204, 209, 211, 214-217, 224, 242, 244-245
European Academy of Sciences and Arts (EASA), 15, 180
European Commission, Community (EC), 16, 22, 36, 41, 43, 187, 203-204, 210, 241, 244
European Environment Agency, 209
European Union (EU), 18, 22, 25, 29-30, 42, 203-204, 206, 238
Evans, David, 89, 239
Extinction, species, 9-10, 52, 71-72, 133, 136, 138, 186
Exxon Mobil, 176, 190
F
Falagas, Matthew, 134
Falck Renewable Resources, 164
Famines, 32
Feedback, positive, 86-88
Feed-in tariff, 20, 176, 187, 214, 216-217, 220
Fertility rates, 32
Feynman, Richard, 71
Finland, 134
Fischer, Hubertus, 80
Fischer-Tropisch process, 229-230
Flaherty, Harry, 137
Flannery, Tim, 8, 10
Flavin, Christopher, 188
Flood, 52, 68, 101, 113-116, 124, 133, 144
Florida State University, 118
Fluorescent lights, 1, 17, 25, 45
Folland, Chris, 111, 159-160, 162
Food and Agriculture Organization (FAO), 206
Food prices, 206-208, 210
Forcing, 9, 56, 92, 121
Ford, Henry, 211
Ford Motor Corporation, 14
Framework Convention on Climate Change (FCCC), 16, 36, 241-242
France, 23, 43, 134, 187, 225-226
Free market, 33
Friedman, Milton, 215
Friends of the Earth, 40, 209
Frondel, Manuel, 218
Frost Fair, London, 57
Fukushima incident, 217
G
Gamesa Corporation, 176
Gas (natural), 19-20, 40, 175, 185-186, 188-190, 192-196, 199-201, 205, 209, 214, 217, 219-226, 229, 244
Gasland, 225
Gasoline, 20-21, 24, 185, 187, 203-206, 208-212, 229, 243, 245
Ge, Quansheng, 60-61
General Circulation Model (GCM), 51
General Electric (GE), 14, 21, 176
General Motors (GM), 14, 212-213
Geophysical Fluid Dynamics Lab, 87, 174
George Mason University, 133, 181
Georgia Institute of Technology, 83, 167
Geothermal, 234
German Advisory Council on Global Change, 216
German Chamber of Industry and Commerce, 218
German Ministry of the Environment, Conservation and Nuclear Safety, 216
Germany, 11, 16, 20, 23, 28, 42-43, 123, 134, 176, 187, 191, 199, 203-204, 214, 216-218, 225, 244
Giaever, Ivar, 182
Gillard, Julia, 11, 40
Glacier, 53, 106, 156, 240
Glacier Girl, 107-108
Global governance, 35-38, 217
Global Warming Petition Project, 142
Golby, Paul, 219
Goldwind Corporation, 176
Goodstein, David, 222
Gore, Al, 2-3, 5-10, 13, 20, 30, 64, 80, 102, 115, 119, 124, 126, 129, 146, 156, 162, 179, 185, 201, 209, 213
effect, 36, 124, 138, 179, 219, 240-241
Graumlich, Lisa, 164
Gray, William, 117, 181
Great Barrier Reef, 139-140, 236
Greece, 134, 187, 244
Green Climate Fund, 37
Greenhouse effect, 50, 53, 69, 71-72, 74, 83-88
Greenhouse gas, 1-2, 6, 10-12, 14-16, 18, 20-22, 30, 32-33, 36, 38, 42, 44, 47, 52-53, 56, 68, 72, 76-77, 91, 106, 121,
127-128, 142, 144, 154-155, 166, 169, 199, 209, 215, 230, 233, 240, 242-243
Greenland, 56-57, 62-63, 76, 102, 104, 106-108, 111, 137, 240
Greenland Expedition Society, 107
Greenpeace, 25, 28, 42, 178, 192, 209, 222, 224
Greenwald, Julie, 115
Grossman, Juergen, 183
Grudd, Håken, 58-59
Gulledge, Jay, 123-124
H
Hadley Centre, 48, 90, 162
Hall, Julie, 143
Halliday, Steve, 198
Hammond, Allen, 221
Hansen, James, 7-9, 14-15, 62, 72, 80, 88, 102, 139, 162, 222, 238-240
Happer, William, 64, 132
Hare, Stephen, 68
Harris, Ian, 167
Harvard University, 112, 126
Harvey, Paul, 4
Hayes, Dennis, 186
Hayhoe, Kathrine, 116
Health issue, 132-136
Heartland Institute, 179, 242
Heat wave, 16, 52, 114, 133, 144
Heathrow Airport, 28-29
Hedegaard, Connie, 29
Heidelberg Appeal, 141-142
Helm, Dieter, 226
Hendry, Charles, 25
Henry's Law, 82-83, 86
Henry, William, 82
Heritage Foundation, 179
Heuer, Rolf-Dieter, 96
Hewlett Foundation, 175
High-speed rail, 29
Hill, Alex, 121
Hockey Stick Curve, 64-66, 158, 160, 166, 179-180
Hoffman, Gretchen, 140
Holdren, John, 18-19, 168
Holmgren, Karin, 58-59
Holocene Climate Optimum, 62
Honeywell, 14
Hong Kong Airlines, 29
Houghton, John, 64, 125, 168
Hoyt, Douglas, 91-92, 95
HSBC, 14
Hubbert, Marion King, 220
Huber, Daniel, 123-124
Hudson Institute, 62
Hughes, Malcolm, 162, 164
Hughes, Warwick, 152
Hulme, Mike, 27, 167-168
Hurricane, 1, 52, 68, 114-119, 133, 240
Hydraulic fracturing, 222-225, 244
Hydrocarbon, 20, 38-41, 109, 176, 183-186, 188, 190, 192, 195, 199-200, 205, 209, 211, 216-220, 223, 226, 238, 243-245
Hydroelectric, 20, 39, 189, 196, 200-201
I
IBM Corporation, 174
Ice age, 2, 66-67, 72, 79-80, 82-83, 108
Ice cap, 4, 7, 52-53, 76, 101-102, 104-108, 111, 240
Ice cores, 75-79, 98, 107
Iceland, 57
Idso, Craig, 62, 139
Ifft, George, 103
Illarionov, Andrei, 153
India, 11, 29, 68, 109, 135, 188, 226, 242-243
Indian Ocean, 68, 109
Indonesia, 29, 38, 58-59
Inhofe, James, 180
Intergovernmental Panel on Climate Change (IPCC), 5-6, 9, 14, 16, 30, 35-37, 49, 52, 56, 58, 62-67, 69, 74-77, 79, 81-82,
90-91, 93, 96, 111, 116-117, 122, 125, 135, 139, 145-146, 152-161, 166-167, 180, 231, 237-238, 240, 241
Assessment report, 6, 14, 16, 48, 51, 56, 63-66, 75, 79, 87-88, 110, 116, 120, 155-162, 164-167, 170, 238-239, 241
International Climate Science Coalition, 142
International Energy Agency, 184, 188-189, 221
International Institute of Sustainable Development, 204
International Satellite Cloud Climatology Project, 87, 95
International Union for Conservation of Nature, 157
Iran, 34
Ireland, 23
Isotopes, 76
Italy, 23, 134, 187
Ivory Coast, 39
J
Jackson, Lisa, 146
Jamaica, 233
Japan, 22-23, 29, 32, 130, 134, 176-177, 211, 217, 243
Jefferson, Thomas, 225
Jobs, green, 128, 214-215
Jones, Philip, 152, 158-167, 170
J.P. Morgan Chase, 40
K
Karl, Tom, 160, 162
Keating, William, 134
Keeling, Charles, 49, 74
Kelkoo, 13
Kerosene, 185
Kettering, Charles, 211
Keystone pipeline, 115
Ki-moon, Ban, 36
King, Alexander, 21
Kingsnorth plant, 191-195, 222
Kirkby, Jasper, 96
Kiwigate, 152
Klaus, Vacláv, 12, 37
Kohler, Karl-Ulrich, 44
Kopacz, Monica, 172
Kouwenberg, Lenny, 78, 82
Kresge Foundation, 175
Krugman, Paul, 242
Kyoto Protocol, 12, 16, 36-37, 42, 143, 146, 241-243
L
Laframboise, Donna, 157
Lal, Murari, 156
Landsea, Christopher, 117
La Niña, 67, 116
Latin America, 156
Lawrence Livermore Laboratory, 162
Leadership in Energy and Environmental Design (LEED), 127, 234
Leipzig Declaration, 142
Lenin, Vladimir, 142, 144
Leno, Jay, 5
Lesley, J.P., 221
Levelized cost, 199-200
Lewis, Harold, 181
Limits to Growth, 186
Lincoln, Abraham, 127
Lindzen, Richard, 41, 88, 120, 155
Little Ice Age, 56-65, 67, 69, 82, 92, 98, 126, 136, 159
Lodge, Tony, 219
Lomborg, Bjorn, 33, 134
London Array, 193-195
London Imperial College, 174
London School of Economics, 9
Los Alamos National Laboratory, 76
Los Angeles Community College, 234-235
Lovelock, James, 34
Lovins, Amory, 185-186, 221
Lucas, Caroline, 168
Lynas, Mark, 177
M
Mabus, Ray, 229
Macquarie University, 10
Malaysia, 236
Maldives, Republic of, 109, 112
Manabe, Syukuro, 87
Mann, Michael, 64-66, 159-162, 164, 167, 170
Marin, Pedro, 228
Marsh, Nigel, 94
Martin, Charlie, 171
Marx, Groucho, 113
Maslowski, Wieslaw, 102
Massachusetts Institute of Technology, 41, 116, 155
Maue, Ryan, 118
Mauna Loa Observatory, 49
Maunder Minimum, 92
McCain, John, 172
McCartney, Paul, 30
McIntyre, Stephen, 66, 140, 164, 179
McKibben, Bill, 8-9, 114, 119, 126
McKitrick, Ross, 66, 166
McLeod, Stuart, 232
Medieval Warm Period, 56-67, 69, 98
Medupi power station, 39-40
Mencken, Henry Louis, 47
Merkel, Angela, 11, 203, 216-218, 242
Methane, 30-31, 50, 83-84, 142, 231
Mexico, 124-125, 224, 242
Middlebury College, 9
Middle East, 203
Milankovich, Milutin, 80
Mississippi State University, 143
Mitchell, Donald, 208
Mitchell, George, 223
Mitchell, John, 89
Modern Warm Period, 48, 55-56, 62, 64, 69, 92, 98, 147, 159-160, 180, 240
Monbiot, George, 124
Morales, Evo, 34
Morgan Stanley, 176
Morocco, 157
Moscow Institute for Economic Analysis (IEA), 152-153
Mount Kilimanjaro, 52
N
Nader, Ralph, 188, 190
Nasheed, Mohammed, 109
National Academy of Sciences (NAS), 15, 155, 174, 180, 209, 213, 240
National Aeronautic and Space Administration (NASA), 15, 63, 108, 118, 122, 143, 150, 160, 173, 180, 240
Goddard Institute, 7, 107, 147, 174, 238
National Center for Atmospheric Research (NCAR), 173-174, 238
National Climatic Data Center (NCDC), 119, 148-149, 153, 179
National Council for the Social Studies Curriculum Standards, 143
National Institute of Water and Atmospheric Research (NIWA), 151-152
National Oceanic and Atmospheric Administration (NOAA), 15, 67, 117, 133, 147-148, 150-152, 160, 162, 172-174, 180, 240
National Resources Defense Council, 138-139, 179
National Science Education Standards, 143
National Science Foundation, 53, 76, 173-174
National Weather Service, 113, 181
National Wildlife Federation, 179
Natural Marketing Institute, 13
Nature, 165
Nature Conservancy, 179
Naval Postgraduate School, 102
Netherlands, 28, 43, 102, 134, 199, 202, 244
Newman, Robert, 34
Newsweek, 178
New Zealand, 134, 151-152, 169
New Zealand Climate Science Coalition (NZCSC), 151-153
Nielsen Corporation, 24
Nigeria, 18
Nirlungayuk, Gabriel, 137-138
Nissan Corporation, 24, 212-213
Nitrogen, 72
Nitrous oxides (NOx), 50, 129, 210
Nobel Prize, 5-6, 13, 156, 182, 241
Nongovernmental Panel on Climate Change, 242
North America, 7
North Korea, 235
North Pole, 74, 110-111
Northwest Carbon Corporation, 231
Norway, 5, 103-104, 137, 177
Nova, Joanne, 97, 132
Nuclear power, 20, 40, 188-190, 194-196, 199-201, 216-219, 243, 245
Nunavut Tungavik Corporation, 137
Nunavut Wildlife Management Board, 137
O
Obama, Barack, 11, 18-19, 22, 24, 29, 115, 136, 146, 154, 172, 210-211, 214, 222, 241
Ocean acidification, 138-140, 144, 240
Ocean heat content, 238-240
Official Development Assistance, 246
Oil, 19-20, 22, 24, 40-41, 115, 126, 128, 175,184-186, 188-189, 203-206, 208-211, 217, 219-224, 226, 229
Opik, Lembit, 121
Oppo, Delia, 58-59
Oregon Inst. of Science and Medicine, 142
Organization of Petroleum Exporting Countries (OPEC), 186
Oreskes, Naomi, 141
Osborn, Tom, 160, 162
Oster, Emily, 126
Our Choice, 7
Our Energy Future, 203
Overpeck, Jonathan, 102, 111, 162, 170
Oxburgh Inquiry, 164-165
Oxburgh, Ronald, 164
Oxfam, 209
Oxygen, 72, 76-77, 131
Ozone (O3), 50, 94, 129, 135, 144, 209-210
P
Pachauri, Rajendra, 6, 30, 56, 146, 156
Pacific Decadal Oscillation (PDO), 68-69, 240
Pacific Ocean, 58, 62, 68-69, 74, 102, 116, 140
Packard Foundation, 175
Pakistan, 1
Palmer, Andy, 213
Parker, Kevin, 13
Pasteur Institute, 136
Peak oil, 220-221, 244
Peer review, 4, 62, 66, 82, 88, 131, 155-158, 162, 167
Pell, George, 227
Pelley, Scott, 141
Pelosi, Nancy, 17
Pennsylvania State University, 128
People for the Ethical Treatment of Animals (PETA), 30
Peru, 67-68
Peterson, Thomas, 162
Petroleum (see oil)
Pew Center, 115
Pew Charitable Trusts, 12
Photosynthesis, 77, 131
pH Scale, 139
Pielke Sr., Roger, 148
Poland, 225-226
Polar bear, 1, 16, 24, 103, 136-138, 144, 186, 228, 231, 236, 240, 246
Politico, 175
Pollution, 21, 38-40, 49, 129, 133, 135, 139, 209-210, 225
carbon, 2, 128, 130, 132, 138, 144
Population, 32-33, 37, 39, 143, 184, 186
Porritt, Jonathan, 31
Power Hungry, 195
Prescott, John, 35
President's Climate Commitment, 12
Princeton University, 64, 74, 132
Propaganda, climate, 12
Proposition 23, 128
Public Broadcasting Station (PBS), 106
Public Service Company in Colorado, 199
Pugh, Lewis Gordon, 111
Purdue University, 174
Q
Q-Cells, 176
Quarmby, David, 122
Queen Mary and Westfield College, 134
R
Radiation, 50, 72, 84, 91-96
infrared, 50, 74, 86
Rahmsdorf, Steven, 120
Rainforest Action Network, 40
Ramesh, Jairam, 156
Rand Corporation, 230
Rapley, Chris, 32
Reiter, Paul, 136
Renewable energy, 1, 3-4, 12-13, 19-21, 28, 40, 110, 170-171, 176, 178, 182, 184-186, 188, 190, 192,
194, 196, 199-201, 210, 214-220, 224, 226, 228, 234, 238, 243-244, 246
Renewable Fuel Standard (RFS), 204
Renewables Obligation (RO), 219
Reserves of oil and gas, 222-223
Revelle, Roger, 49
Revkin, Andy, 33, 103
Richey, Julie, 60-61
Roberts, Carter, 138
Roberts, David, 177
Roberts, Mark, 42
Robinson, Arthur, 142
Rockefeller Foundation, 175
Rodriguez, Jose Luis, 215
Roesler, Philip, 218
Roman Climate Optimum, 63
Romm, Joseph, 117
Royal Automobile Club Foundation, 122
Royal Meteorological Society (RMetS), 15
Royal Society, 15, 180, 240
Russell Inquiry, 165-166
Russell, Muir, 165-166
Russia, 29, 32, 122, 152-153, 158, 169, 224, 243
RWE Corporation, 42-43, 183
RWI Institute, 218
S
Sagan, Carl, 110
Salinger, Jim, 152
Santer, Ben, 162
Sawyer, Diane, 113
Schatten, Kenneth, 91-92, 95
Schneider, Stephen, 154
Scripps Inst. of Oceanography, 121, 140
Sea-level rise, 7, 16, 101-102, 104, 108-112, 186, 240, 246
Sea Shepherd Conservation Society, 42
Schelling, Thomas, 125
Schlesinger, James, 221
Schmidt, Gavin, 84, 121, 123, 162
Schumer, Charles, 187
Scientific-government complex, 172
Seitz, Fredrick, 155
Sensitivity, climate, 87
Shapps, Grant, 24-25
Sharp Solar Corporation, 176
Shearman, David, 34
Sherwood, Steven, 91
Shell Corporation, 14, 176
Siegel, Kassie, 137
Siemens Corporation, 14, 176
Sierra Club, 21, 83, 179, 222
Sinclair, Upton, 182
Singer, S. Fred, 53, 62, 67
Singh, Mahoman, 11
Sissons, Peter, 168
SKY experiment, 94-96
Slingo, Julia, 174
Slovakia, 43
Smitheringale, Tom, 111
Smith, Joseph, 34
Snow, 16, 113, 115-116, 120-125
Solar constant, 91
Solar cycle, 91
Solar energy, 19-21, 28, 39, 45, 110, 128, 171, 176, 183, 185-186, 188-198, 200, 202, 206, 214-218, 220, 226, 228, 233-235, 243, 245
Solar Millennium Corporation, 218
Solar Trust of America, 245
Solar wind, 92-94, 96
Solomon, Susan, 162
Solon, 218
Soon, Willie, 112
South Africa, 36, 39, 58-59, 62, 166, 224, 242
South America, 224
South Korea, 32
South Pole, 74
Soviet Union (USSR), 136-137, 142, 147
Spain, 23, 134, 176, 187, 192-193, 195, 214- 215, 228, 244
Spencer, Roy, 75, 85, 88, 105, 119-120, 158
Stabenow, Debbie, 12
Stanford University, 176
Steiner, Achim, 37
Stern, Nicholas, 8-10
Stern Report, 101
Steward, Leighton, 131
Stewart, Ken, 151
Stocker, Thomas, 167
Stomata, leaf, 77-78, 82-83
Storm, 52, 68, 113-114, 116, 120, 144
tropical, 7, 114, 116-118, 120, 133, 147
Storms of My Grandchildren, 72
Stott, Peter, 121-122, 162
Stott, Philip, 168
Stringer, Graham, 165
Strong, Maurice, 36
Subsidy, 20, 24, 45, 171, 176, 183, 201, 203-204, 208-211, 214-215, 217-220, 224, 225, 235, 244
Sulfur oxide (SOx), 94-95, 129, 209-210
Sumitomo Bank, 14
Sun, 55, 91-99, 126, 190-191, 194, 238
Sunspot, 91-94, 96-97, 240
Supercomputer, 52-53, 174, 182
Sustainable development, 1, 13, 34, 38, 40, 44, 142, 171, 176, 195, 206, 208, 210, 217, 233, 234, 238, 243, 245-246
Suzuki, David, 177
Svensmark, Henrik, 94-96, 98
Sweden, 38, 58-59, 62, 123, 134, 216, 232
Switzerland, 167
T
Tapster, Dan, 167
Tata Steel Corporation, 44
Taylor, Mitch, 137
Taylor, Richard, 107-108
Temperature, global, 10, 14, 16, 47-48, 51, 53, 55-56, 58-69, 79-80, 86-87, 89-92, 94, 97-99, 101, 105-108, 110, 120,
133, 135-136, 140, 147, 159-160, 162, 169, 180, 182, 239-240, 242, 246
proxy, 58, 60, 64, 66, 69, 76, 159-160
record (data), 145, 147-153, 160-161, 169
sea surface (SST), 58-62, 68-69, 116-118, 139, 238, 240
Texas A & M University, 167
Texas Tech University, 116
The Book of Icelanders, 56
The Chilling Stars, 96
The Climate Crisis, 120
The Foundation Center, 175
The Guardian, 124
The New York Times, 103, 105
The Population Bomb, 32
The Weather Makers, 10
TNO Management Consultants, 22
Tornado, 114-116, 119-120, 125, 240
Trenberth, Kevin, 67, 119, 162-163, 170, 238
Trent University, 156
Troposphere, 89-91, 96, 105
Tunesia, 157
Turner, Jonathan, 28
Turner, Ted, 33
Tyndall Centre for Climate Change Research, 35, 167-168, 225
U
Udall, Tom, 114
Uggerhoj, Ulrik, 96
Union of Concerned Scientists, 190
United Kingdom, 9, 11, 16, 23-24, 28, 35, 39, 43-44, 57, 107, 121-122, 124-125, 129, 134-136, 144, 152, 156, 158-159,
163, 169, 174, 177, 185, 187-188, 191, 193-195, 197, 202-204, 213-214, 216, 219-220, 222, 224-225, 235, 244
UK Department of Energy and Climate Change (DECC), 219-220, 232
UK Government Office of Science, 125
UK Meteorological Office, 48, 53, 89, 111, 121-122, 159, 165, 174
UK National Grid, 197-198
UK National Health Service, 30
UK Parliament, 28, 121, 163, 165, 198, 218
UK Sustainable Development Commission, 31
United Nations, 6, 15-16, 18, 21, 30-32, 34-38, 42, 109, 124, 141, 146, 153-154, 158, 166, 169, 186, 206, 241, 245
United Nations Environment Programme (UNEP), 34, 36-37, 157
UN Foundation, 35
United States, 7, 11-14, 18-19, 22, 24, 28-29, 32, 35, 37, 39, 78, 94, 106-108, 110, 114-116, 118-121, 123, 129-130,
133-135, 137, 142, 147-151, 153, 158-159, 168-169, 173, 175-177, 181, 186-188, 190-191, 193, 196, 198, 201,
203-205, 207-211, 214, 216, 224-226, 229-230, 234, 241-244
US Census Bureau, 19, 130
US Center for Biological Diversity, 137
US Center for Disease Control, 134
US Central Intelligence Agency, 221
US Coast Guard, 107
US Congress, 14, 28, 64, 66, 132, 136, 146, 174, 178, 180, 210, 241-242
US Department of Agriculture (USDA), 173-174, 205, 207, 230
US Department of Commerce, 150, 173
US Department of Defense, 229-230
US Department of Education, 142-143
US Department of Energy, 173-174, 176, 188, 200-202, 207, 221, 223-224, 230, 245
US Department of Transportation, 23, 211
US Environmental Protection Agency (EPA), 4, 22, 25, 85, 128-130, 146, 169, 174, 210-211
US Fish and Wildlife Service, 232
US Geological Survey, 137
US Global Change Research Program (USGCRP), 133, 135-136
US Office of Management and Budget, 173
US State Department, 103
University Corporation for Atmospheric Research (UCAR) 105, 162, 165, 172
University of Aarhus, 33
University of Alabama, 85
University of Alaska, 69
University of Arizona, 162
University of Bern, 167
University of California, 80, 141, 176, 181
University of Chicago, 30
University of Colorado, 148
University of East Anglia, 48, 120, 147, 152-153, 158-159, 163-169
University of Florida, 181
University of Guelph, 66, 166
University of Idaho, 173
University of Illinois, 103-104, 141
University of Kassel, 167
University of Massachusetts, 64
University of Oxford, 123, 162, 226
University of Rey Juan Carlos, 214
University of Rochester, 89
University of South Florida, 60
University of Stockholm, 58
University of Tennessee, 212
University of Twente, 208
University of Utrecht, 78
University of Virginia, 53, 159, 162
University of Wales, 120
University of Washington, 68
Unstoppable Global Warming, 62
Urban Heat Island, 148
V
van Hoof, Thomas, 78
van Huis, Arnold, 31
Vehicle, 18, 21-24, 38, 187, 203-206, 216, 230, 243
electric, 1, 24, 35, 39, 128, 183, 210-213
mileage, 22, 205, 208, 210
Venezuela, 34
Vermont, 9
Vestas, 21, 176
Vietnam, 102
Viner, David, 120
Vogtle plant, 192-195
Volcano, 74, 81, 83
Vostok ice station, 79-80
W
Wadhams, Peter, 102
Wageningen University, 31
Wales, 44
Water usage, 206, 208, 210
Water vapor, 50, 55, 77, 83-89, 94-95, 129, 131, 240
Watson, Paul, 42
Watson, Robert, 146, 241
Watts, Anthony, 112, 148, 153, 179
Weather, 84-87, 89, 112-126, 135, 197
Weaver, Sigourney, 138
West County plant, 192-195
Western Electric Council, 198
Wigley, Thomas, 162, 165
Wind energy, 2, 19-21, 28, 39, 41, 44-45, 110, 128, 171, 176, 183, 185, 187-191, 193-202, 206, 214-218, 220, 226, 232, 234, 243-245
Wirth, Tim, 14, 35, 178
Wojick, David, 83
Wolfe, Joshua, 121, 123
Woods Hole Oceanographic Institution, 58
World Bank, 37, 39, 208
World Environmental Organization, 37
World Health Organization, 31, 39, 134
World in Transition, 216
World Wildlife Fund (WWF), 128, 138, 157, 179, 192, 231, 235
Wrigley, Tim, 162
X
Y
Z
Zero-carbon home, 24
Zero-Carbon Hub, 25
Zillman, John, 154
Zimmerman, Maggie, 141
Zwick, Steve, 181