Speaking on Environmental Common Sense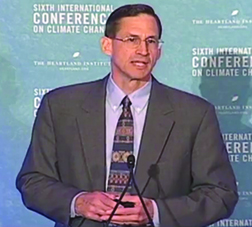 Contact Steve to Learn the Real Story on These Topics:
Corporate Environmental Policy
Environment
Sustainable Development
Energy
Climate Change
Weather Trends
Selected Presentations
Beyond Green:  Common Sense Environmental Policy for Business
Corporate America has gone green.  Green products, sustainable services, recycling, energy efficiency programs, and counting of carbon emissions are standard practices.  But are all these policies necessary and effective?   Understand the basics of a common sense environmental policy that can improve your bottom line.
Weather and Climate Change:  Implications for Your Business
Are hurricanes getting stronger?  Will there be more drought and flood events?  Are weather patterns really changing?  Is mankind causing dangerous climate change?
Steve Goreham presents evidence and historical trends about weather events and climate, customized for your region and business.
Our Energy Future and the Myth of Peak Oil
Energy is one of the most controversial and least understood aspects of our modern society.  Is energy use causing global warming?  Are we running out of oil, gas, and other resources?  Are renewable energy sources the answer to our needs?  Learn the answer to these questions, along with facts, stories, humor, and common sense about our energy future.
Sustainable Development:  Solution or Scourge?
The World Business Council on Sustainable Development has recommended sustainable business policies for the 21st century.  Billions of dollars are spent each year by companies, universities, and governments on sustainable development.  Your firm has adopted sustainable development as part of your corporate social responsibility.  Economics and cost/benefit have been tempered with adoption of renewable energy and other decarbonization policies in order to boost your corporate image and protect the environment.  But do these policies really help the planet?  Steve Goreham cuts through the smoke and provides sound advice on sustainable development to help improve your corporate strategy.
Climate Change and Renewable Energy:  The Rest of the Story
Companies, universities, and governments proclaim the coming doom of global warming and the benefits of renewable energy.  But what is the real story?  Steve cuts through the misconceptions sounded daily by the news media and taught to our children in school.  His presentation is filled with information, stories, and humor, delivered in a way to make climate science quite understandable to anyone.
The Ingenuity of Mankind:  Why the Golden Age of the 20th Century Should Continue
Doom and gloom characterize the headlines of today's news.  It appears that humanity is on the road to inevitable decline.  Yet, the 20th Century brought a golden age for much of mankind, with every measure of human welfare improving.  Hear an uplifting keynote address on why the golden age of the 20th Century should be followed by further advances in the 21st Century.
One page downloadable brochure here.  To contact Steve to make a booking steve@climatism.net
Recent Appearances
Independent Petroleum Association of New Mexico (Albuquerque, NM, 2014)
9th International Conference on Climate Change (Las Vegas, NV, 2014)
University of Northern Iowa (Cedar Falls, IA, 2014)
Central Iowa Power Cooperative (Altoona, IA, 2014)
Rotary International World Affairs Conference, Manchester University (North Manchester, IN, 2014)
University of Dubuque (Dubuque, IA, 2014)
Tennessee Eagle Forum (Nashville, TN, 2013)
Society of Plastics Engineers, Minitec Conference (Gurnee, IL, 2013)
American Coal Council, Coal Market Strategies Conference (Lake Tahoe, CA, 2013)
Doctors for Disaster Preparedness, 31st Annual Conference (Houston, TX, 2013)
California Grain and Feed Association, 89th Annual Convention (Los Angeles, CA, 2013)
Educational Policy Conference 24, Constitutional Coalition (St. Louis, MO, 2013)
Barrington History Museum (Barrington, IL, 2012)
7th International Conference on Climate Change (Chicago, IL, 2012)
World Youth Alliance (New York, NY, 2012)
Ball State University (Muncie, IN, 2011)
6th International Conference on Climate Change (Washington, D.C., 2011)
Eureka College (Eureka, IL, 2011)